Gojira VS Supesugojira (Godzilla vs. Space Godzilla)
(1994)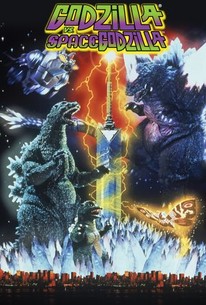 AUDIENCE SCORE
Critic Consensus: No consensus yet.
Gojira VS Supesugojira (Godzilla vs. Space Godzilla) Photos
Movie Info
Godzilla must once again fight to protect his island domain (gee, you'd think he'd have installed a security system by now!) in this sci-fi adventure from Japan. While Godzilla has a new adversary in Mogera, a mechanical monster created to keep the Big G at bay, this gigantic robot is no match for Space Godzilla, a mutant alien creature who combines Godzilla's powers with that of the dreaded Biollante. Space Godzilla confronts the traditional, earthbound Godzilla in a battle royal, with Mogera and Little Godzilla on hand to help. ~ Mark Deming, Rovi
News & Interviews for Gojira VS Supesugojira (Godzilla vs. Space Godzilla)
Critic Reviews for Gojira VS Supesugojira (Godzilla vs. Space Godzilla)
All Critics (4) | Fresh (1) | Rotten (3) | DVD (1)
The scattershot narrative and frequently bargain-basement special effects need a lot more than one great and one satisfactory monster suit.
There IS an audience for these Godzilla flicks, but not from this corner.
March 8, 2008 | Rating: 1/5
It's a guy in a monster suit. Gotta love it!
July 30, 2003 | Rating: 3/5
Audience Reviews for Gojira VS Supesugojira (Godzilla vs. Space Godzilla)
½
The franchise has always been about silly, fun ideas, but with this one they really lack in terms of amusing ideas. I am all about great, silly, ridiculous ideas for Godzilla films, but only when they are done right. Song of Godzilla proved that it was a silly idea that really didn't pay off. This is very much the case with this Godzilla in space themed movie, amusing concept, and poor execution of the idea. As a whole it could have been better, and it is a shame because at this point all the revamped films were a quite good, but in the latter half of the franchise, this is the first big dud has been produced. With an amusing like this one, there could have so many good ways to pull it off, but no. The script lacked, the direction was unfocused and the acting was laughable, even by Godzilla standards. I really wanted this one to stand out, but it simply failed throughout, and it should have been an effective monster film with great thrills. Unfortunately this one feels rushed with no effort to really make it worthwhile to its dedicated fan base. Godzilla vs. Space Godzilla is a lacking film in terms of quality and fans deserved a lot better than this one. I really liked the films up to this now. This let me down, and after seeing it, I just wanted more out of the film. Diehard veterans of the series may love it, but others may be disappointed. Go in with low expectations, just so you're not disappointed. There has been better, and the films that came before this proved it.
Fun but pretty average Godzilla flick. The special effects are still very good but this effort comes across as a bit rushed. The plot is nothing special in which the villainous SpaceGodzilla comes to Earth and Godzilla must stop him. Mogera is the human's new mechanical weapon that looks like a giant steel penguin. The suit that was chosen for Godzilla's son is pretty bad. The son has big eyes and light green skin that makes him look too cute, almost like he came straight from a Barney episode. The final battle is a little lengthy but still fun to watch. One of the weaker Godzilla entries, but not bad.
Christopher Heim
Super Reviewer
½
Underrated Godzilla movie. Here we have Godzilla fighting Space Godzilla. OK, so they are obviously running out of monsters here, but at least it ties in with the previous titles. Space Godzilla was created after the spores of Biollante, or possibly some of the big G's DNA from Mothra, mutated with something or BLAH BLAH BLAH. Who cares? It's Godzilla, and there's a monster that needs fighting. The film also has some great human characters, with a man out for vengeance after Godzilla killed his friend. Despite this, he has a soft spot for little Godzilla. The battles are fairly lengthy, maybe too much so. Space Godzilla starts turning things into crystals, which is bad. Telepathy, space, monsters, ridiculous science. It's Godzilla and it rocks.
Luke Baldock
Super Reviewer
Gojira VS Supesugojira (Godzilla vs. Space Godzilla) Quotes
There are no approved quotes yet for this movie.