Gogol Bordello Non-Stop
(2008)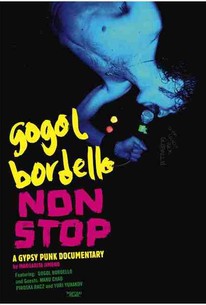 Gogol Bordello Non-Stop Videos
Gogol Bordello Non-Stop Photos
Movie Info
Fusing the instrumental approach of Eastern European gypsy music with the energy and attitude of punk rock, Gogol Bordello is one of the most unusual success stories of pop music in the new millennium, and Eugene Hutz hardly has the background of a typical rock frontman. Born near Kiev in 1972, Hutz and his family fled the Ukraine after the disaster at the Chernobyl Nuclear Power Plant in 1986, and they made their way through Eastern Europe as refugees before coming to America in 1990. After playing with local bands in Vermont, Hutz relocated to New York City in 1997. While working as a DJ at downtown clubs, he began meeting fellow expatriate musicians, and in 1999 Gogol Bordello was formed. Gogol Bordello's frantic live shows earned the band a loyal following both at home and on the road, and their third album, 2005's Gypsy Punks: Underdog World Strike became a major independent success. Filmmaker Margarita Jimeno followed the band on the road for several months, and the result was Gogol Bordello Non-Stop, a documentary which looks at the group's colorful history and rigorous schedule as well as offering a look at the high-energy live show that's made them famous.
Critic Reviews for Gogol Bordello Non-Stop
Audience Reviews for Gogol Bordello Non-Stop
½
Throughout watching this film it will make you realize that there aren't nearly enough gypsy punk rock bands out there.
Lanky Man Pat
Basically I'm a fan of Gogol Bordello. And if you are a fan, what's not to like about this? Though the focus is primarily on frontsman Eugene Hutz, all the members of the band are interviewed about how they came to be with Gogol Bordello and their roles within the band. We see old family footage of Hutz in the Ukraine, of the early days of the band in the old Bulgaria Bar to the current travels of the band around the world. Though the band has gotten some above ground attention as of late and certainly play bigger venues these days, Hutz and the others have not abandoned their ties to the bohemian underground (the international squatter symbol is prominently sprayed onto the wall of more than one building they visit in different locales.) Yeah, yeah, I know he was in some movie that Madonna put up the money for or wrote the screenplay for or something like that. Even so, as of yet, he hasn't stopped being that guy in the Bulgaria Bar no matter where he ends up, you know?
Jenny Gonzalez-Blitz
Gogol Bordello is an interesting band. This is on netflix instant streaming and I reccomened that you check it out. The band is described as a gypsy punk, and the lead singer often sports a curly mustash and is from some place in Russia. The story of the band is also more interesting than most since the lead singer talks about his experiance in Russia (actually Check Republic I think) and coming here and becoming a under ground cult band in New York. They seem to be a great live band with a group of characters.
Jeff Heruth
Gogol Bordello Non-Stop Quotes
There are no approved quotes yet for this movie.
Discussion Forum
Discuss Gogol Bordello Non-Stop on our Movie forum!