Goldfinger
(1964)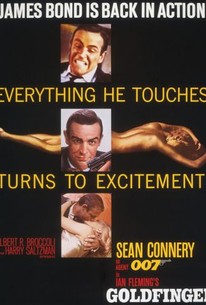 TOMATOMETER
AUDIENCE SCORE
Critic Consensus: Goldfinger is where James Bond as we know him comes into focus - it features one of 007's most famous lines ("A martini. Shaken, not stirred") and a wide range of gadgets that would become the series' trademark.
Movie Info
To many, the quintessential Bond film and a brilliant third entry in the series. Here Bond gets his Aston Martin, spars with two statuesque British beauties and pits his wits against a memorable villain, Auric Goldfinger. Add the first Shirley Bassey theme song and some exciting action sequences and the result is an explosive cocktail.
News & Interviews for Goldfinger
Critic Reviews for Goldfinger
Audience Reviews for Goldfinger
½
The first of four Bond films directed by Guy Hamilton, and by far the most iconic entry among critics and fans. Pretty much all the Bond movie cliches started right here!! Great theme song by Shirley Bassey, contains some of the most memorable scenes of the franchise (Do you expect me to talk?), fantastic gadgets, and Bond has some truly funny one-liners. The whole affair really feels like a 60's pulp-thrill comic book brought to vivid life, and I mean that in the best sense possible. However, with all these elements that surely make Goldfinger an entertaining flick, why is it I don't LOVE this entry as much as everybody else does? I think it comes down to two critical things: 1. Despite her outrageously hilarious name, I find Pussy Galore to be the most over-hyped Bond girl of all time. Outside of her name, I just find her to be a bland, unremarkable character and don't get me started on the infamous barn scene. 2. The second act, in which Bond is a prisoner of the title villain, is a bit too slow-paced and nearly grinds the whole affair to a dead halt. The fact that the whole second-half of the movie takes place in America doesn't help matters (I find pretty much all the Bond movies that take place in America to be boring) Don't misunderstand, I do enjoy this movie and I do appreciate it's importance to the franchise, but it doesn't even break my personal top ten Bond entries. Heck, I enjoy the previous two Connery films and the two that came afterwards (Thunderball and You Only Live Twice) more.
Christopher Heim
Super Reviewer
As great as the story is in this film, and how memorable it's villains are, it just does not make up for it's overdone, and sometimes laughable action sequences, which have not dated very well. Regardless, I was invested the entire way through, making for a great entry in the series. I just felt a bit annoyed during my viewing of this film. "Goldfinger" definitely has the best story of the series so far, but by the end of the film, I was too focussed on the shot mess-ups and the sloppy choreography that I was taken out of the experience. Aside from these complaints, it's sharp dialogue and clever story tactics make up for it. This is a great bond flick!
If defining a generation's your thing, here's the master class, an filmic anatomy course in giving the people what they want (circa 1960, yah?) in spades. And so what do the people want? Let's look at the film to see. A lead with all the answers, courageous, on-the-job and yet not too on-the-job to take a detour every now and then (If the reason's sexy enough), civilized and yet ready to rough-and-tumble should the need occur. Check. The women? Competent, alluring, able to do any man's job (forgive me) and more, and yet still submissive? Check. Our villain? Sophisticated, worldly (portly, too), ingenious, conniving, ruthless. Check. Did I mention ruthless yet? Check again. Henchman? Strong. Silent. Ready to kill. And yet stylishly coiffed with a derby. Check. Let's get ready to rumble.
Kevin M. Williams
Super Reviewer
Goldfinger Quotes
| | |
| --- | --- |
| Pussy Galore: | My name is Pussy Galore. |
| James Bond: | I must be dreaming... |
| James Bond: | I must be dreaming. |
| | |
| --- | --- |
| James Bond: | A martini. Shaken, not stirred. |
| | |
| --- | --- |
| Auric Goldfinger: | Man has climbed Mount Everest, gone to the bottom of the ocean. He's fired rockets at the Moon, split the atom, achieved miracles in every field of human endeavor... except crime. |
| | |
| --- | --- |
| James Bond: | Do you expect me to talk? |
| Auric Goldfinger: | No, Mr. Bond, I expect you to die! |
Discussion Forum
Discuss Goldfinger on our Movie forum!