Gormenghast
(2000)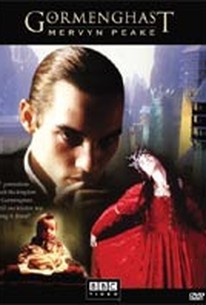 AUDIENCE SCORE
Critic Consensus: No consensus yet.
Movie Info
The ancient family of Groan has been incarcerated for centuries in the vast crumbling castle of Gormenghast. The dynasty is threatened by the charismatic Steerpike who escapes his destiny as a kitchen boy. As Steerpike charms and outwits the eccentric inhabitants into submission, including the beautiful Fuchsia, only Titus, stands in his way. The Young Earl and his pretender fight a bloody duel against the fantastic backdrop of the disintegrating castle. Who will emerge the victor and what secrets will they discover? -- © 2000 BBC
Rating:
NR
Genre:
Directed By:
Written By:
On DVD:
Runtime:
Studio:
Critic Reviews for Gormenghast
All Critics (3) | Fresh (1) | Rotten (2) | DVD (3)
This sumptuous vision looks great, serves up plenty that's pleasing, and although is somewhat flat is not bad. It does, though, take Peake's extraordinary achievement and makes it, well, ordinary.

Audience Reviews for Gormenghast
½
Gormenghast is a neo-gothic BBC miniseries based on the books written by Mervyn Peake. Steerpike dreams of taking control of the kingdom Gormenghast. He was born to work in the castle's kitchen but he works his way up the into the household. This miniseries interesting to say the least. The Costumes are amazing. The colors are amazing. I have never read the books but I have heard that the Tv series are much more colorful than what Peake intended. The sets are amazing. The acting was wonderful. The storyline might have needed some work but you try to bring three thick books down to 4 hours. So, if you're into fantasy movies this one is a can't miss. www.what-to-watch.com
Laura Rachel
This BBC mini-series is actually a combination of the books Titus Groan and Gormenghast. In 4 - 1 hour parts, being from the BBC they're really close to a whole hour as opposed to the usual 45 minute network episodes. Gormenghast is an ancient kingdom that must be located somewhere in Europe, since it is populated with Europeans. More specifically, it is populated with really odd Europeans, which sounds more like Great Britain. In fact it is a fictional location in which Mervyn Peake has created an extremely ossified culture, technologically stagnant, that indulges itself in numerous obscure rituals that cover almost all routine events, written down in huge books and applied as if their lives depended on it. The story centers around the Groans, who's male heirs rule as Earls. Titus is set to become the 77th Earl of Groan, and as he matures he sees it as his doom rather than his destiny, and comes to despise Gormenghast. At first, however, he's just a baby and the story centers on his father and the odd ducks that are his family and servants. Into this mix is added Steerpike, a kitchen boy of huge ambition that finds ways to ingratiate, titillate and extort his way to a much higher position, hardly killing anyone at all to get there. The Groans and Gormenghast in general are so dense and caught up in the minutiae of their lives it takes them years to realize that there's a racoon in the chicken house, so there's plenty of story to take up a 4 hour mini-series. I read these two books once upon a time and hardly remember them. I believe the BBC series plays Steerpike a bit more sympathetic than the books did. The trilogy has been compared to LOTR and the Thomas Covenant trilogy, both of which I liked more than Gormenghast. Gormenghast is fiction not fantasy, there are no dragons, orcs or hobbits. The kingdom appears to be mostly medieval with some touches of modernity here and there. The closest thing to monsters are the huge Death Owls. What makes the mini-series work is a very talented cast that bring their characters to life. They make it a pleasure to watch, if only once. The 2 DVD set has a Making Of, Cast interviews, a few unrelated trailers. It is all shot in a peculiar not-quite 4:3 or 16:9 format, at least that's the way my hardware decoded it to the screen. Video and audio are strictly TV quality, with video colorful if a bit smeared and audio all upfront mono as far as I could tell. The DVDs get a 6/10 for getting it on my screen but not much else.
Walt Huber
Gormenghast Quotes
There are no approved quotes yet for this movie.