Graduation Day (Día de Graduación)
(1981)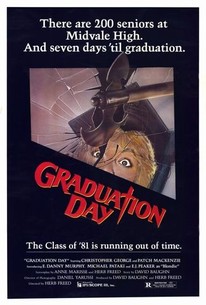 Graduation Day (Día de Graduación) Videos
Graduation Day (Día de Graduación) Photos
Movie Info
Los miembros del equipo de pista y campo son asesinados antes de su graduación de secundaria. Christopher George, Patch MacKenzie, E. Danny Murphy, E.J. Peaker. Dirigida por Herb Freed.
Rating:
R
Genre:
,
Directed By:
In Theaters:
On DVD:
Runtime:
Studio:
Critic Reviews for Graduation Day (Día de Graduación)
Audience Reviews for Graduation Day (Día de Graduación)
½
A very middle of the road slasher flick, but still enjoyable if you like stuff from the heyday of the genre. Kids begin turning up dead when a young woman returns from the military for her sibling's graduation, leaving us to wonder what all the connections are between the victims. It's nothing great, but an okay time-waster for a boring afternoon.
Bill Bryant
½
By the time "Graduation Day" made it to theaters, all of the conceivably possible holiday horror films had already been made so it was time to start in with all of the pseudo holidays like this and "Prom Night". This is a pretty sad excuse for a slasher, as the graduation day backdrop really has little to do with anything. The plot is pretty threadbare as it is, and the killer's identity is pretty easy to figure out once you've eliminated all of the obvious choices. The gore is convincing, but it's pretty weak when you look at some of the other films from the era. Tom Savini had the bar set pretty high. The murders are pretty predictable, and the film is completely devoid of any shocks or scares. In most of these movies you can honestly say that the cast will never amount to anything and it would be true, but this one has one exception. Future "Wheel of Fortune" letter-turner Vanna White makes a ridiculous and brief appearance here as a giggly schoolgirl and potential victim. You can honestly say that you can't see a lot of talent here, but I guess what she's been doing on TV for the last twenty-five years doesn't really take a lot of talent so that is kind of irrelevant. Christopher George sure does provide a lot of laughs as the sadistic coach and prime suspect, but the rest of the film is utterly predictable and routine. Theres nothing to distinguish this from a dozen of other film's just like it, but "Graduation Day" is considered by slasher purists as something of a lost classic. For better or worse, however, nothing stays lost forever because of the magic of DVD.
Timothy Sanders
A good slasher flick, I really liked it. It's not too different from other slasher flicks, but it's entertaining and enjoyable.
Graduation Day (Día de Graduación) Quotes
There are no approved quotes yet for this movie.