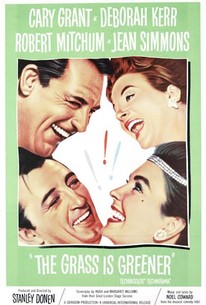 The Grass Is Greener
1960, Comedy, 1h 45m
8 Reviews
2,500+ Ratings
Where to watch
Rent/buy
Rent/buy
Rate And Review
The Grass Is Greener Photos
Movie Info
An English earl (Cary Grant) and his wife (Deborah Kerr) open their stately home to the public, including a Texas oilman (Robert Mitchum).
Audience Reviews for The Grass Is Greener
This movie is pretty good, it's funny and stars three really good actors. The story is a bit predictable, and it's sort of boring in some scenes, but I kind of liked it anyway. I liked the ending.

an old school english drawing room comedy of manners wherein modern millionaire yank bobby mitchum handily poaches titled yet impoverished englishman cary grant's filly, seven year itchy deborah kerr. is it gunfight at the ok corral then? or perhaps a duel at dawn? oh no. director stanley donen paces us thru the worst of personal relationship wars with rapier wit and comedic banter that dares one to keep up with all the verbal grenades tossed about. throw in atomic jean simmons as a tipsy though possibly explosive tour guide and you've got a different kind of filmic entertainment, entertainment that thinks as fast as you. maybe faster.

Delightful, witty, well acted.

"the grass is greener" is one excellent work from classic comedy director stanley donen who could elaborate those bedroom drama which mainly be epathetic with estrogen to a divine sophistification, even a mundane subject of un-marital affair could be polished with civilized suaveness. the main story set is cary grant and deborah kerr are happily married in their old historical british mansion, living by exhibiting fair of their ancient house, until one day american prodigal charm boy robert mitchum steps into their private living room to captivate kerr's matronly affection by exclaiming "your eyes are beautiful as poetry"...then the composed grant sinks into a predicament of his happiness with his competent love rival who is recklessly unpreditable and boyishly charming... usually the corny scenario of cuckolded man would run amok to bombard the wife with the accusation of infidelity and rageous condemnation, but not our resourceful grant with fine spirit of sportsmanship who schemes to connive his wife galloping to her provocatively exciting lover, escpecially the third party is insolently luring as robert mitchum. since he comprehends his objection would even enhance mitchum's rascal attraction to kerr, so he intends to stand his position without movement...then everything is drastically modified after a challenge of pistol duel. you gotta admire the clever wits in the lines of grant, and his mellowed wisdom as the ultimate debonair who conducts himself gracefully, retains his dignity under such a circumstance of potential humiliation. jean simmons plays the talkative friend who flashes herself in the gaudy wardrobe of christian dior, and her vivicious humor is also adequately humorous under such an awkward condition as the outsider of a threesome. "the grass is greener" is definitely very british, and incidentally it parodies the feud between america and britain, symbolizing it with marvellous line like "maybe it's time for america to place a statue of liberty (or libertine!) in britain" as the insinuation of mitchum's bold inference to grant's married life. such sophisticated comedy could be only made with stanley donen and stars like grant, kerr, mitchum and simmons, and nowaday show business can no longer produce such tasteful comedy with such pearly dialogues, impossible to exist under the absurd emphasis of savagely rugged manhood in contemporary action cinema or the radical effimination of male beauty in various recent advertisements.
See Details