Griff the Invisible
(2011)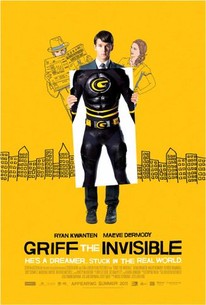 Griff the Invisible Photos
Movie Info
The world can make us invisible. Courage can make us incredible. Love can make us invincible. Ryan Kwanten of TV's True Blood stars in this charming, quirky and totally unpredictable romantic comedy about the superhero in all of us. Griff (Kwanten), a shy and awkward office worker by day, finds escape from his ordinary life by assuming the identity of a fantastic superhero each night. Griff's secret is jeopardized when he meets Melody (Maeve Dermody), a cute but unconventional daydreamer. She quickly becomes fascinated by his idiosyncrasies, which are equal only to her own. In the face of mounting pressure to live in the "real world," it's up to Melody to rescue Griff the Invisible for the sake of herself, Griff and their newfound love for each other. -- (C) Indomina
News & Interviews for Griff the Invisible
Critic Reviews for Griff the Invisible
Audience Reviews for Griff the Invisible
½
Question: Do you ever feel invisible? You are standing there, existing in the world but no one seems to notice you or how special you are? I am positive a lot of you think this way but there is at least one person who gets you and when that happens - all is right in your world. An Australian film I just watched on Netflix, Griff the Invisible, touched on this subject. The movie stars Ryan Kwanten also known as Jason Stackhouse from TrueBlood speaking in his native Australian accent and playing a very different type of character. Anyway, he plays Griff, an introverted, awkward fellow who sees the world differently but who also lives in the world where no one really sees the true him. Um, not sure if I am describing it right.... The whole point of the film is that we all have our own perspectives on things but there are those rare few that no one understands and they become obsolete or unnoticeable to most. Bottom line, Griff thinks he is a superhero put here to protect the innocent which in turn makes him want to hide from others so no one figures out his secret (mission). Okay, that's enough detail of the story. Let's talk overall picture. Well, Griff the Invisible started off intriguing and with me wanting to know more about each character, specifically Griff. Ryan Kwanten was quite adorable as the awkward, unassuming chap who just wanted to do good deeds. He pulled off the innocence and detachment from the real world in a very convincing way. It was a big departure from his role on True Blood - the overly cocky yet not so smart character. Another element that stood out in Griff the Invisible was the cinematography/art direction. There were not a lot of special effects in this film but just enough to keep the story on the fantastical side. Also, the use of a certain shade of yellow was splattered throughout the film. It caught my eye as I enjoy color theory and know that yellow is an intense color to grab people's attention which is the opposite of what Griff wanted. It made me curious especially when the love interest wore the other two primary colors. Besides Ryan Kawnten and the visuals of the film, I finished the film with an unsatisfactory energy even though the ending made me smile. It started about halfway through the film, the story dulled and I found myself not really interested in the characters as much as I was in the beginning of the film. However, it was worth the viewing. Directed & written by Leon Ford, Green Park Pictures, 2010. Starring: Ryan Kwanten, Maeve Dermody, and Marshall Napier. Genre: Comedy, Drama, Romance. My favorite thing: One character (Melody) had some great lines in it. Some made me giggle. My least favorite thing: That the story wasn't well-rounded, I suppose. Rating: PG-13 Length: 90 minutes Review: 5 out of 10
Tired of Previews
Super Reviewer
An Aussie comedy starring True Blood's Ryan Kwanten, Griff is a pragmatically kooky film with little consideration for plot or character development. Instead it tries to contain its quirky attitude by subverting the superhero genre once more, adding to the list that includes Defendor and Super. It's less of a superhero genre and more of an indie romantic comedy. The superhero aspect of the plot is simply to deviate from the character's oddity up front. At first it seems to fit well within superhero fair, including big fights, large equipment, and even a latex costume. Still, it's supposed to be about a man with complex imaginatory powers and a woman with the same freakish demeanor. Griff seems to be too psychologically damaged to make sense as a male lead, and his imagination swells the entire film in a fog of uncertainty. For a large portion of the film I wasn't sure if he really did possess all the capabilities of a hero or if it was a part of his psyche. It's always nice to see the lonesome protagonist fight the odds by being a force of goodness while staying in the shadows, but here it's just more embarrassment and shame. Of course, even if he was the hero, he would be atypical since he keeps to himself and acts senselessly. At the same time his brother is dating a strange woman who meets Griff unexpectedly and she becomes the love interest. Their antics together, and their shared neurosis makes for the rest of the plot, which winds into obscurity and delineates quickly from the beginning. By the very end it's clear that it's cute and charming in places, but overall it's also convoluted, complicated, and formulaic as well. The performances from everyone, especially Kwanten and Dermody, were dramatically sound. I found the leads to be realistically strange and yet sympathetic to each other, nearly symbiotic with their co-dependency. A great love story in the cutest sense.
Spencer S.
Super Reviewer
A fantasy love story that I found quite endearing. Fun. Quirky. Sweet. A little cooky, a little sci fi, a little romance, a little different. Well done...
Cynthia S.
Super Reviewer
Griff the Invisible Quotes
| | |
| --- | --- |
| Melody: | I'm not who you think I am. |
| | |
| --- | --- |
| Melody: | What were you like as a kid? |
| Griff: | Small? |
| | |
| --- | --- |
| Melody: | I live in a bubble that no one, no one gets into. I feel like an alien. I live in a completely different world to the one everyone else is in. I can't communicate with anyone. I can talk to them but I can not.. communicate. But you.. Griff, you get into my bubble. |
| | |
| --- | --- |
| Melody: | I know who you are. You are me, and the opposite of me. You are the question, I am the answer. You are the proton, I am the neutron. |
| Griff: | You are a magnetic field and I am as light, forever drawn to you. |
Discussion Forum
Discuss Griff the Invisible on our Movie forum!