Gunner Palace
(2005)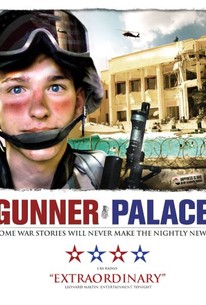 Movie Info
Shortly after President George W. Bush announced that "major combat operations have ended" in the war in Iraq, filmmaker Michael Tucker (a self-described "Army brat" whose father served in Vietnam) traveled to Baghdad, where he and his camera crew were embedded with the 2-3 Army Field Artillery unit, improbably based out of a bombed-out mansion which once belonged to Saddam Hussein and his son Uday. Tucker and his crew spent two months with the soldiers of the 2-3 FA (in September 2003 and February 2004), following the young men and women as they went about their daily rounds in a land where they were welcomed by some and targeted by others. Gunner Palace offers a sympathetic but objective portrait of the American fighters as they go on routine patrol, try to ferret out insurgents, help train Iraqi forces, keep an eye peeled for homemade explosives, police some of the local troublemakers, and for the most part simply try to get through their days without the loss of life and limb in the midst of what they sarcastically call "minor combat operations." Gunner Palace received its world premier at the 2004 Telluride Film Festival and became the first documentary about the war in Iraq to be shot and released while the war was still taking place.
Critic Reviews for Gunner Palace
Audience Reviews for Gunner Palace
Gunner Palace is a riveting documentary about the Iraq War. Director Michael Tucker plunges us deep in the action and gives something we would not normally see. This is a raw and gritty documentary that shows us what war is really like. Gunner Palace plunges deep in the action, and it is a riveting documentary that will certainly appeal to viewers interested in warfare. Along with Restrepo, this is one of the best films on the subject of modern war. Everything you see is unique, intense and unforgettable. I thought that the material was riveting and exciting due to the fact that it's not something that we wouldn't normally see. Gunner Palace is a finely crafted picture that is among the finest documentaries in recent memory. This is a must see for viewers interested in the subject of the war in Iraq. This is unfiltered to show you exactly how it is, and a lot of it is shocking, but all very real. Gunner Palace is sure to appeal to war buffs, and if you're interested in war and military subjects, then give this one a shot. The film gives you a taste of what it's like, and it is entertaining from start to finish. You're on the edge of your seat from the first frame onwards as we see the men constantly in harm's way. This is a riveting film that is sure to make you think and appreciate what Military personal go through. If you're looking for a great documentary to watch, then Gunner Palace is the one for you. Films like this are great to watch because we get to see something that we'd never see due to the fact that many people nowadays are interested reality TV. However this is real, and for that reason it makes it that much more interesting.
[font=Century Gothic][color=darkslategray]"Gunner Palace" is an enlightening documentary about an American infantry company in Baghdad in 2003 and 2004, following the American invasion, as they patrol the volatile city and live in what used to be Uday Hussein's sumptuous palace. The movie makes the good point about these soldiers being trained against standard forces; now being an occupying force and carrying out police and other duties, that they were not trained for.(In retrospect, this film sort of reminded me about the reality show "Cops" and the fictional show "The Shield.") I learned about what kind of lives these soliders lead when they are not on duty. The film does sympathize with the soldiers while Secretary of Defense Donald Rumsfeld is held up for ridicule for some of the statements he has made. My only complaint was I wished this film had shown more things from the Iraqi point of view, too. [/color][/font]
Gunner Palace Quotes
There are no approved quotes yet for this movie.