Harry & Son
(1984)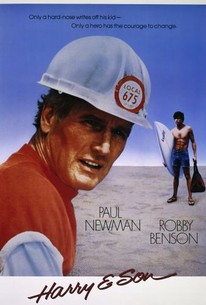 Movie Info
Paul Newman directed and stars as a blue-collar widower at odds with his son (Robby Benson). Katie: Ellen Barkin. Tom: Wilford Brimley. Sally: Judith Ivey. Raymond: Ossie Davis. Siemanowski: Morgan Freeman. Newman also co-scripted.
Critic Reviews for Harry & Son
Audience Reviews for Harry & Son
Paul Newman's triple whammy - not only did he direct one of the worst movies I've ever seen, but he also starred in one of the worst movies I've ever seen - and then he got Robby Benson, as his costar, who just happens to be one of the worst actors I've ever seen. It really is somewhat amazing that an actor can be that bad, while trying.
Bloodmarsh Krackoon
½
The narrative line of the script is scattered and seems to pick up ideas and problems and then drop them without resolution to tackle some other tangential issue. The issues all pertain to the relationship between the father and son but it would have been better to focus more on their interaction and less on exterior forces. Benson tries in the lead but just isn't that strong of a screen presence especially when competing with Newman's star power. The rest of the cast is certainly talented even if what they're handed character wise is diffuse and it's interesting to see some like Freeman and Barkin who went on to long careers just starting out. Not a bad film but very average.
One Of the Best Father & Son Movies I Have seen In A Looong Time I lauphed, I Cryed This is a beautifull Look Into The Realitys Of A Son Trying To Live up to is dad's Standerds In a Off Handed Way With the son Doing it all his Way Joanne woodward and paul newman Shine!!! I Love it when husband and wife act together It makes the movie more majical....
angel marth
Harry & Son Quotes
There are no approved quotes yet for this movie.
Discussion Forum
Discuss Harry & Son on our Movie forum!