Heaven's Burning
(1998)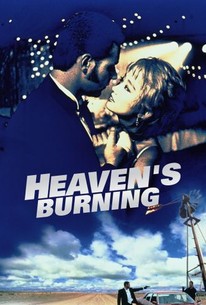 AUDIENCE SCORE
Critic Consensus: No consensus yet.
Movie Info
Combining action, humor and surprising twists, this Australian road movie follows the adventures of a runaway Japanese bride who ends up fleeing gangsters, cops from two countries and a murderously humiliated spouse in the company of a handsome getaway driver from a failed bank robbery.
Rating:
R (adult situations/language, sex, violence)
Genre:
, , , ,
Directed By:
Written By:
In Theaters:
On DVD:
Runtime:
Studio:
Trimark
Audience Reviews for Heaven's Burning
½
What I've done is unforgivable. A desperate man in need of money joins two brothers as a driver for a bank robbery. The bank robbery goes very bad and the driver has to kill one of the brothers to save a hostage. The brothers work for their gangster father who sets out on a mission to kill the driver and collect the money from the bank robbery. The driver has the money and the hostage and goes on the run. "A hand for a hand plus interest." Craig Lahiff, director of Swerve, Fever, Black and White, Ebbtide, Strangers, and The Coming, delivers Heaven's Burning. The storyline for this picture is very cliché and straightforward. The action was okay but the rest of the film was fairly ordinary. The acting is not that great and includes Russell Crowe, Yuku Kudo, Ray Barrett, and Robert Mammone. "I understand this is your karma. I understand! I understand!" I came across this on Showtime Anytime and thought this looked like a surprise random Crowe picture worth a viewing. I generally enjoy these grindhouse like pictures but this was disappointing. This wasn't a complete waste of time but I wouldn't go too out of my way to see it. "He's the best driver I've ever seen." Grade: C
Kevin Robbins
½
Tragic tale of escaping the trappings of life to find destiny. Surprisingly good performances by Kudoh, Isomura, and Gheorghiu. Who wouldn't fall for Youki?
Christopher Bergan
½
Heaven is burning down the discotheque - discotheque, let's shake it. I hate the heck out of contemporary music and ironically, I'm probably the only one who gets that contemporary song reference. Seems appropriate, seeing as I'm also the only person who's heard of this film, something that was obvious enough without the 2 day search for a video of it. Well, maybe it was a pretty popular film, only everyone forgot about it. It's doesn't have much memorability about it. Translation: This might be a bad review. This film suffers from some lack of development, some inconsistancies in storyline and character roles, some abrupt events, some improveable choices in casting, some weak writing, some cheesiness and some overacting by some smaller cast members. Is that enough "some"s, ladies and gentlemen or do I need "some" more. Also, let us not forget that there is a ton of gratuitous violence and death. That poor robber, driving woman, gun provider, dog, crazy motorized wheelchair guy, farmer and kangaroo. I guess I'm gonna stop the list there, because I'm only allowed to type 25000 characters. I exaggerate, but this film does get pretty crazy. But seriously though, as flawed as the film is, it is saved by a good story, the occasional good line, a decent ending and decent performances from Crowe and Kudoh. Ultimately, this film is like this review, not terrible, but not terribly great. Of course, the difference is that I expected this review to be bad, where with this film, I expected it to just be the somewhat underwhelming and understandably overlooked piece on Russell Crowe's filmography that it turned out to be. Still, as forgettable as it is, if you happen to come across "Heaven's Burning" - and boy, talk about a big "if" - then it's worth watching, thanks to the enjoyable story and decent performances by the leads. Also, after seeing those mutton chops, I say that they should definately get Russell Crowe if they're ever gonna do an Elvis biopic. Heck, he's got the bloating down now-a-days. Seems like I always need to bring up either Russell's getting out of shape or phone throwing. Anyone think he'd like me?
Cameron Johnson
Super Reviewer
Heaven's Burning Quotes
| | |
| --- | --- |
| Midori Takada: | This is strange country. I can breathe here. |
| | |
| --- | --- |
| Midori Takada: | When we do it, we can go backward. |
| | |
| --- | --- |
| Truck Driver: | Naughty boy. You let our standards slip by interbreeding with inferior races, and before you know it, we'll be breeding half-foots and mongrels! |