Humanoids From the Deep
(1980)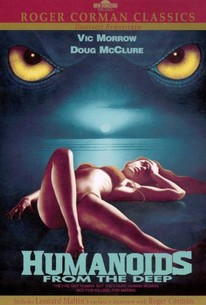 Humanoids From the Deep Photos
Movie Info
This gory, scary low-budget shocker from the Roger Corman stable concerns the battle over a salmon cannery in a Pacific Northwest town. Genetically treated salmon escape the plant and are eaten by coelacanths, who mutate into humanoid monsters with giant craniums and sharp claws. The creatures begin attacking teen couples, killing the boys and mating with the girls (in some pretty graphic monster-rape scenes). Eventually, a bunch of them create total pandemonium at the annual salmon festival. Barbara Peeters directs with flair, Rob Bottin's effects are nauseatingly effective, and the cast is good, especially Vic Morrow as a racist fisherman and Doug McClure as the stalwart hero. An uncompromising shockfest with enough gratuitous blood and nudity to keep fans happy, the film features an Alien-inspired shock ending which still makes viewers jump today.
People Who Like this movie also like
Critic Reviews for Humanoids From the Deep
Audience Reviews for Humanoids From the Deep
"They're not human. But they hunt human women. Not for killing. For mating." Humanoids from the Deep is what you'd expect from a movie about fish that evolve because of scientific experiments and begin to ravage a town by killing the men and raping the women. So... it isn't good. It's a B-movie in every way. From the awful acting, to how the creatures look, to the fact that breasts have to be shown all the time to make us forget about how bad the movie is, and go "Oh, boobies." There's still a certain amount of fun to be had though if you can give your brain over to the film. Roger Corman made a living making bad movies like this watchable and he succeeds here, I guess, but I still didn't like it.  This one is only worth a look if you are a hardcore fan of Roger Corman and his films. I like Corman, but this movie is just a little too bad for my taste. I like a terrible movie every once in awhile, but with Humanoids from the Deep, it just didn't have that so bad it's good quality to it. In my eyes it was just bad. It's cheap, it's exploitive, it's dumb, it's bloody, it's everything you'd expect from a Corman produced film. 
Melvin White
Super Reviewer
As far as monster films are concerned, Roger Corman knows how to deliver a fun, gory low-budget B movie that is sure to please fans of the genre. Humanoids of the Deep is a terrific film that is a must see for B movie fans. This is one demented monster film as monsters try to mate with human woman and kill the men. This is a terrific gore fest that is lots of fun from start to finish. As far as monster film are concerned, this is one of the better films with hints of classic films mixed with 80's sleaze, this is a film that is designed to truly entertain the viewer and downright shock, it certainly shocks and stays with you. Effects artist Rob Bottin who would later work 9on John Carpenter's The Ting and Paul Verhoeven's Total Recall creates some sick looking sequences of gore which adds to the chaos of the film. The story may be simplistic in nature, but that's what makes this one so good. This film is brilliant monster film with everything you'd expect from a good ol' fashioned monster yarn. This film will surely appeal to fans of the genre, and if you love Roger Corman's work, give this one a shot, you won't be disappointed. There's never a dull moment in this film, it is constantly entertaining and from start to finish it offers up good gore, tension and one wicked climax that you soon won't forget. If you're in the mood for a great low-budget monster flick, Humanoids from the Deep is the one to check out. A fun film from start to finish.
An okay monster movie, but really it's just an updated version of some 50s B-movies. It's not too bad, but it's not too good either.
Humanoids From the Deep Quotes
There are no approved quotes yet for this movie.