Hunk
(1987)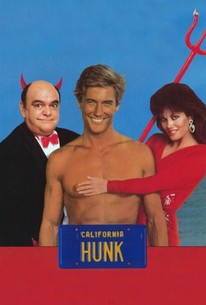 AUDIENCE SCORE
Critic Consensus: No consensus yet.
Movie Info
Bradley Brinkman (Steve Levitt) is a computer nerd who makes a deal with the Devil (James Coco) in this teen comedy. He is transformed into Hunk Golden (John Allen Nelson), the muscular blonde-haired, blue-eyed California heartthrob. She-devil O'Brien (Deborah Shelton) threatens to change the popular Hunk back into the anemic Bradley if he refuses to serve the Devil on Earth. Rebecca Bush plays psychologist Sunny Graves and co-stars with Robert Morse, Constantine Constapopolis, and Avery Schreiber. James Coco, who died a few weeks before the debut of this film, gives memorable comic portrayals of a pirate, a Nazi, and a caveman in addition to a delightful devil.
Audience Reviews for Hunk
I'm still kinda conflicted about how to grade this turkey, as it has pretty much zero nudity, which is a cardinal sin for a film of this type. It also came on the end of the teen sex comedy wave, so it almost feels like a chick flick at times, but the gorgeous Deborah Shelton almost makes all this worth ignoring, as she's just so much fun to look at. Kid makes a deal with the devil, gets more than he bargained for and you see less boobs than you expected to, it's hard to really root for this one to be honest. Rental?
Bill Bryant
1/2* (out of four) A truly awful film that almost has to be seen to be believed. But, then you would actually have to sit through it. James Coco plays the Devil himself. He grants a computer nerd, played by Steve Levitt, a wish to become a tall, blonde, muscular Califorbia Hunk who can get any woman he wants. Deborah Shelton plays the demon who must make sure that he does the Devil's bidding on Earth or she will drag him down to Hell. It claims to be a comedy, but there isn't a laugh to be had anywhere.
Steve Smith
I give it 1 star and that's only for the beautiful 80's campiness shown throughout this movie.
Sarah Prisbylla
Super Reviewer
Discussion Forum
Discuss Hunk on our Movie forum!