I Wake Up Screaming
(1941)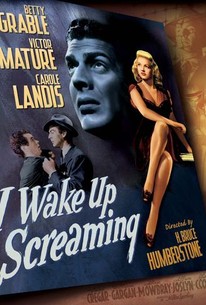 I Wake Up Screaming Photos
Movie Info
Laird Cregar as a creepy detective lends an added air of menace to this intense film noir. Victor Mature stars as Frankie Christopher, a Hollywood agent who finds himself accused of murdering his client Vicky Lynn (Carole Landis). Frankie takes refuge with Vicky's sister Jill (Betty Grable, in her first non-musical performance). But on his heels is back-street detective Ed Cornell (Laird Cregar). Coming upon Frankie and Jill, he tries to tell Frankie that although he doesn't think Frankie is guilty, there is enough evidence for him to fry in the electric chair. Not particularly reassured by the news, Frankie bolts to try and clear his name. Then he comes upon Vicky's troubled neighbor Harry Williams (Elisha Cook Jr.) who not only has pictures of the murdered actress pasted all over his walls, but holds the key to the crime.
Critic Reviews for I Wake Up Screaming
Audience Reviews for I Wake Up Screaming
The signatures of noir are all present here: a dead body, a big gorilla, a grueling cross examination, a too smart love affair, and loads of dark eyed people smoking in dark rooms lit from the lights from behind venetian blinds while knocking back the hooch. American life was not the dream dreamt if you managed to survive the war, yet again. Loved it.
Kevin M. Williams
Super Reviewer
the director seemingly couldn't decide between creepy thriller and light hearted romance so the tone of the film is confusing. i'm not a fan of victor mature, tho he has a great noir face, his acting is too often over the top. betty grable is a lightweight who can't handle drama at all well, and is shown up here by carole landis in one of her few substantial roles. the real reason to see the film is laird cregar whose performance is easily worth 3 stars
Stella Dallas
Super Reviewer
½
This is sort of a confusing mystery, but mysteries that aren't confusing are boring. I loved this movie.
I Wake Up Screaming Quotes
There are no approved quotes yet for this movie.