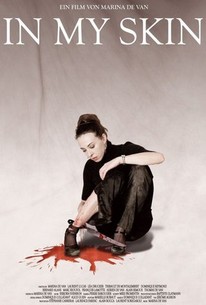 In My Skin
2002, Drama, 1h 33m
44 Reviews
2,500+ Ratings
Rate And Review
Movie Info
A Parisian marketing professional, Esther (Marina de Van) has a gruesome secret. She's been obsessed with the damage she can inflict upon her own body ever since sustaining a deep cut in an accident. Esther cuts her flesh with knives, scissors and other sharp household objects. Her behavior, of course, deeply worries her boyfriend Vincent (Laurent Lucas), but Esther can't stop harming herself. Soon her self-mutilation places her in mortal danger.
Genre: Drama

Original Language: French (Canada)

Director: Marina de Van

Producer: Laurence Farenc

Writer: Marina de Van

Release Date (Theaters): wide

Release Date (Streaming):

Box Office (Gross USA): $31.0K

Runtime:

Distributor: Wellspring Cinema

Production Co: Canal+

Sound Mix: Dolby SR, Dolby Digital

Aspect Ratio: Flat (1.85:1)
Audience Reviews for In My Skin
All the blood in the world couldn't save this film from being slow-paced and boring. It also doesn't help that the main character is pretty hard to look at.

In My Skin is a disturbing and very psychological film. It tells the story of a woman that injures herself at a party. Unaware of the severity of the leg wound, she doesn't discover it until later. She gets patched up, but is soon scratching away at the scars. What starts as morbid curiosity soon devolves into obsessional mutilation. The film focuses on self-mutilation in a very sickening way. This is a compulsion that can't be controlled. In typical horror fashion, it takes a serious and very real subject and amplifies it without becoming corny and gimmicky. It was interesting to see a woman destroy herself, which made it both tragic, but also strangely empowering. Overall I found it got to be a bit repetitive, and as the protagonist shoved away most people that cared for her, it just became a series of mutilations.

Subversive, dirty and brave, this feels like something that would have been a Video Nasty three decades ago. Its boldness is by far its greatest quality, and Marina de Van deserves special commendation for the situations she both concocts and enacts. She's a woman with a vision that she absolutely will see through. In My Skin is a mature look at the sometimes faulty interface between the body and the mind, one that really calls our existence into question - Esther realizes, and we alongside her, how we're essentially just shambling sacks of blood and organs. It is gruesome, but not without purpose, and the gore is as as tasteful as it possibly could be. Unfortunately, the film is not without its problems, the likes of which are too glaring to be soothed by its ambitions. Esther's candor about her body issues with her friends and loved ones is presented organically as part of her personality, but they all act detached, even when it's perfectly clear that she's causing herself considerable harm. de Van is committed to bold visual illustrations of Esther's self-mutilation AND how that self-mutilation is viewed by the people around her, but no one ever calls Esther's mental health into question - she more or less "gets away" with what she's doing. de Van's only real hesitation in this narrative comes about because of how the side characters might interfere with the crescendoing violence, so in order to solve this problem, she simply doesn't let them. So we get to see a really awesome fucked-up climax, but the terms on which we reach it are implausible. de Van's tale, so heavily rooted in psychology, takes a rather one-sided perspective; it's Esther's tale we're getting here, concerns of an otherwise realistic cast be damned. This fledgling director could stand to take a few pages out of Cronenberg's book, in terms of balance, but she clearly has a lot to offer and this is more or less a very solid debut work.

Morbidly interesting and gripping extreme French drama about a woman that becomes obsessed with her skin after recieving a nasty gash to her leg which triggers her to self harm to satisfy her cravings. It's really not for the squeamish at all and all the scenes of skin peeling and slicing were quite nauseating. It's a really well made film though by fearless female director Marina de Van, who also plays the lead and gives a brilliant performance that draws in sympathy as she struggles with her new found 'hobby', her love life and career. Despite its sickly nature I found this film quite fascinating and worth watching for those with strong stomachs.
See Details