In Old California
(1942)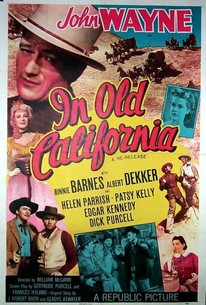 AUDIENCE SCORE
Critic Consensus: No consensus yet.
Movie Info
With its slight resemblance to Destry Rides Again (1939) -- probably not entirely coincidental -- this rousing Western from Republic Pictures remains a joy throughout. John Wayne plays Tom Craig, a mild-mannered druggist from Boston who opens a shop in wild and woolly Sacramento shortly before the Gold Rush. The town is "owned" by the Dawson brothers, Britt (Albert Dekker) and Joe (Dick Purcell), who poison Craig's tonic when saloon hostess Lacey Miller (Binnie Barnes) takes too much of an interest in the handsome newcomer. Town drunk Whitey (Emmett Lynn) has one drink too many, and all of Sacramento is soon in a lynching mood. The news of "gold in them thar hills" saves the druggist in the nick of time, but his business is destroyed. While everyone is heading for the gold fields, Craig prepares to leave town with snobbish debutante Ellen Sanford (Helen Parrish), whom he intends to marry. News of typhoid fever among the prospectors changes his mind, however, and the man once referred to as "a human hitchin' post instead of a two-legged man," risks his own life to save the suffering populace. The Dawson brothers, meanwhile, plan to hijack the medical supplies and sell them to the highest bidder, but when Britt Dawson learns that Lacey is helping the sick and may be stricken with the disease herself, he has a change of heart and eventually confesses to spiking Craig's medicine. Cast against type for most of the film, John Wayne fails to make his amiable druggist entirely believable but remains simply John Wayne throughout -- which is as it should be. Binnie Barnes is rowdy and fun whether leading a chorus of "California Joe" by Johnny Marvin and Fred Rose, or jealously interrupting a tête-à-tête between Wayne and 19-year-old Helen Parrish. Usually cast as glacial "other women" in Hollywood films, the British-born Barnes had actually begun her professional career touring Europe and South Africa with bucolic American headliner Tex McLeod, which was as good a preparation as any to play In Old California's saloon belle. Patsy Kelly, who shoots down her laundry with a Winchester, and Edgar Kennedy, as Wayne's tooth-ache plagued sidekick, add to the general fun. ~ Hans J. Wollstein, Rovi
Rating:
NR
Genre:
, ,
Directed By:
Written By:
In Theaters:
On DVD:
Runtime:
Studio:
Republic
Critic Reviews for In Old California
There are no critic reviews yet for In Old California. Keep checking Rotten Tomatoes for updates!
Audience Reviews for In Old California
Give me a beer. Make it long and make it wet. A Boston pharmacist moves to Sacramento during the height of the gold rush. He sells an elixir of sorts to cure what ills you. A politician wants the pharmacist out of Sacramento and blames him for an epidemic that breaks out in the miners. The pharmacist works quickly to cure the workers and clear his name. "I want cut glass, chandeliers, and gold knobs." William McGann, director of Highway West, We Go Fast, Wolf of New York, Frontier Badman, A Shot in the Dark, and Alcatraz Island, delivers In Old California. The storyline for this picture is fun to watch unfold and a very different character for John Wayne. The settings are okay and the drama wasn't as intense as it could have been. The acting was pretty good and the cast includes Wayne, Patsy Kelly, Albert Decker, and Paul Sutton. "Are you in the mood for a very important question?" I had bookmarked this movie off Netflix because it starred John Wayne and I had never seen it. This was interesting and fun to watch unfold. It wasn't my favorite Wayne movie, but I will say seeing him as something besides a stuffy, wise cracking cowboy was fascinating. Overall, this is worth a viewing but not one of my favorite pictures from this era. "I don't see the point of no joke!" Grade: C+
Kevin Robbins
In Old California Quotes
There are no approved quotes yet for this movie.
Discussion Forum
Discuss In Old California on our Movie forum!