Irma La Douce
(1963)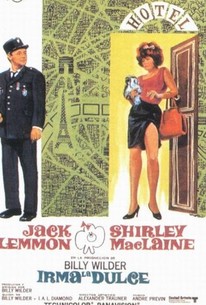 Movie Info
This romantic comedy opens with a resounding warning: its chief concerns are passion, bloodshed, desire, and death. "Everything," exclaims the narrator, "that makes life worth living." Irma La Douce (Shirley MacClaine) is Paris' most prosperous prostitute. Wise, endearing, and compulsively clad in green, Irma rules the rue Casanova. She triumphantly works the most coveted corner on a street where the cops gladly look the other way and the naughty johns leave tips. Her street is a content community of live and let live and good-natured desire, an Augean stable of human understanding. However, to upright Nester Patou (Jack Lemmon), the area's new policeman, genial wrongdoing is still wrongdoing. Freshly promoted from day patrol at a children's playground, the scrupulous Nestor arrests Irma and her colleagues in a bumbling, unauthorized raid. He takes pity on Irma, but harasses the guilty johns -- including the police captain. Promptly unemployed, Nester returns to the scene of his crime, the rue, and to Irma. After physically besting her pimp, Nester unwittingly takes his position. The two fall madly in love, but Nestor quickly grows jealous of Irma's patrons. Thus, he masquerades as a wealthy English aristocrat and becomes Irma's sole customer -- only to eventually grow violently jealous of himself. Soon enough, this formally righteous cop is comically jailed for his own brutal murder! As the film's prologue promises, Irma La Douce is a celebration of life from beginning to end -- unabashedly adoring lust, emotion, fervor and, above all, foolish love. ~ Aubry Anne D'Arminio, Rovi
Critic Reviews for Irma La Douce
Audience Reviews for Irma La Douce
This is a fun film, but it doesn't near comparison to wilder's work with the two stars in 'the apartment." ...but no one said that it should.
Stefanie C
Super Reviewer
This is another really funny movie from WIlder, and starring the great Jack Lemmon. The story isn't new, and it's predictable sometimes, but that doesn't make the movie an less funny.
½
A brilliant comedy starring Jack Lemmon and Shirley McClane where the charcters and situation escalate way out of control and have hilarious consequences. The humour is still fairly subtle, but this is a totally unique quirky gem of a film, which has gone straight into to my favourites list.
Lady D'arbanville
Super Reviewer
Irma La Douce Quotes
There are no approved quotes yet for this movie.
Discussion Forum
Discuss Irma La Douce on our Movie forum!