The Iron Mask
(1929)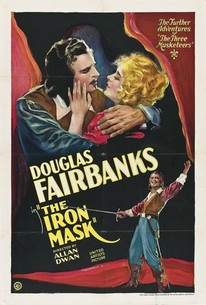 Movie Info
The Iron Mask was Douglas Fairbanks' sequel to his popular 1921 vehicle The Three Musketeers. Fairbanks returns to his original role of D'Artagnan, while Marguerite de La Motte and Nigel De Brulier briefly reprise their Musketeers roles as, respectively, Constance and Cardinal Richelieu. After tying up loose plot ends from the first film, the middle-aged D'Artagnan and his equally venerable fellow musketeers Athos (Leon Bary, also returning from the 1921 film), Porthos (Stanley J. "Tiny" Sandford) and Aramis (Gino Corrado) set about to rescue Louis XIV (William Bakewell), the rightful King of France. Louis XIV has been entombed in a dungeon by his twin brother (also Bakewell) and his head has been locked in an impenetrable iron mask. All of this is at the behest of the scheming De Rochefort (Ulrich Haupt), the real power behind the throne. The Iron Mask was Fairbanks' last silent film; perhaps in acknowledgment of the passing of a Golden era, Fairbanks "died" on screen for the first and only time in his career. Most currently available prints of Iron Mask are taken from the 1940 reissue, narrated by Douglas Fairbanks Jr; in 1974 the younger Fairbanks prepared a restored version of the original, including two brief dialogue passages filmed by Fairbanks back in 1929.
Critic Reviews for The Iron Mask
All Critics (5) | Top Critics (1) | Fresh (5) | Rotten (0)
Dwan's deft, understated way with action sequences meshes perfectly with Fairbanks's lighthearted, light-footed acrobatics.
Fairbanks was getting old, but still offers his trademark dash and flamboyance; one of the last great silent films.
May 1, 2003 | Rating: 3/5
Audience Reviews for The Iron Mask
The Three Musketeer's last adventure together, and what an adventure! Don't miss it. This movie is fun, exciting, swash-buckling, and even humorous at times. I liked it.
Barry Lappin
Super Reviewer
The Iron Mask Quotes
There are no approved quotes yet for this movie.