The Iron Rose
(1973)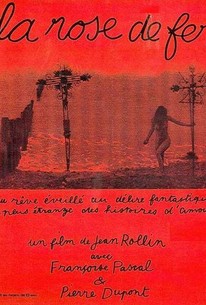 AUDIENCE SCORE
Critic Consensus: No consensus yet.
Movie Info
Cult director Jean Rollin's most unusual and haunting film was this poetic tale of two young lovers (Francoise Pascal, Hugues Quester) lost in a cemetery overnight. With only one set, two characters, and a hallucinatory style which could provoke unintentional laughter in some audiences, the film was a commercial disaster. Quester was so embarrassed that he had his name taken off the credits, where he is now listed as "Pierre Dupont." Still, as time passed and audiences grew more sophisticated, the film's uniquely peculiar atmospherics have gained it a cult following, and some even consider it on a par with the original Carnival of Souls as among the simplest and creepiest of macabre films.
Critic Reviews for The Iron Rose
Audience Reviews for The Iron Rose
One thing's for sure: Few of us have had a first date this interesting. "The Iron Rose" is an unusual, intriguing film, though the middle drags badly. It's less a horror story than an existential chamber play that happens to have a spooky setting. An attractive young pair meets at a wedding reception, plans a casual date for the next day and wanders into a cemetery for lunch. They make love (apparently for hours?) in an underground crypt and emerge to find the sky darkened and their bearings obliterated. Which way is the gate? Then the girl starts intoning morose poetry and the boy starts to wish he was elsewhere. There are just two speaking parts, and even the central couple (who go unnamed) are mostly silent. The third largest part is simply a mysterious passerby in a clown suit. The idea of being lost in a cemetery seems more plausible, once you see this site with its thick greenery and tall headstones. The locations are wonderful, and another visual bonus is the girl's body steadily threatening to fall out of her flimsy clothes.
Eric Broome
Super Reviewer
½
Young lovers are trapped in a cemetery at night and then... nothing happens. Two characters, lots of scenery, little dialogue or action, less sense. I like many of director Jean Rollin's mildly surreal horror movies, but this one shows him at his turtle-paced, self-indulgent worst.
½
I enjoyed this movie, but I was left wishing there could be more to it, a little more extremity, I guess, maybe some blood and more sex? Overall, it's a pretty good movie, though, the plot is particularly cool, I think. The actors are fine, and the set and everything is creepy and very atmospheric like Rollin's films usually are.
The Iron Rose Quotes
There are no approved quotes yet for this movie.