Jakeob-ui jeongseok (Art of Seduction)
(2005)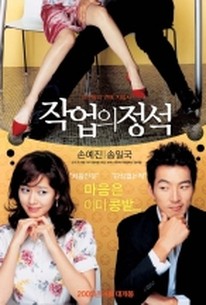 AUDIENCE SCORE
Critic Consensus: No consensus yet.
Jakeob-ui jeongseok (Art of Seduction) Photos
Movie Info
In this hit romantic comedy, Min-jun and Ji-won are first-rate "players" who are used to getting their way on the battlefield of love and sex. That is until they run into each other. Let the games begin.
Critic Reviews for Jakeob-ui jeongseok (Art of Seduction)
There are no critic reviews yet for Jakeob-ui jeongseok (Art of Seduction). Keep checking Rotten Tomatoes for updates!
Audience Reviews for Jakeob-ui jeongseok (Art of Seduction)
One line summary: An almost clever film glorifying the lives of grifters in Korea. ------------------------- The male protagonist Min-jun, and the female protagonist Ji-won, are both manipulative, lying opportunists who use strangers for their own gains. Judging from the first few minutes of the film, I would hope that both of them get the lengthy jail sentences that they so richly deserve. Neither of them succeeds by merit, unless on counts their skills in identifying the weaknesses of their targets and exploiting those weaknesses. They are parasites who regularly commit felonies. In early part of the narrative, we see the depredations of the pair as they act separately on their marks. Eventually they meet one another. She likes to ram stopped cars with single drivers then victimize the person she hit. She pulls that on the male protagonist, and is surprised when he does not fall for her bovine scatology. They lie to each other, then lie some more, then lie some more. The music indicates that this is supposed to be humorous. As the story continues, they have to deal with their previous targets. They also get to like each other, even though they continue constructing plausible lies. Do the protagonists get together and stay together? Does one get the upper hand and crush the other? Stay tuned (if you can stand it) to find out. ------Scores------ Cinematography: 10/10 Excellent with very few exceptions. Sound: y/10 Moot, I suppose. The voiced Korean seemed quite soft. I had to trust the subtitles. Acting: 5/10 More like mugging. There must have been over 100 instances of 'oh, did that idiot believe me?' Screenplay: 5/10 It is a story of (ethically) ugly people doing ugly things to people whom they hold in contempt. When the protagonists get to know one another, they sharpen each other; that is, improve their 'A' game. There is neither redemption nor punishment in this collection of vignettes about con artists.
Ed Collins
This movie is mildly amusing for the first half. Then it slows down tremendously in the last act or so, to the point where it just killed the movie for me. Not that it was bad or anything, it's merely ok. And it had some cute ideas here and there, but they never seemed to materialize into anything all that funny. Plus the character progression is pretty fucking bad here. They go from being dicks to each other to being semi-attracted to each other...and there's no real rhyme or reason for it. It just happens, so it's kind of hard to buy into it when you're not given any real reason why these two should be attracted to each other. There are a couple of scenes where something important happened and the next scene after that everything is fine and there's no mention of what happened. This is obvious in the hospital scene when she poisons the dude and they need a defibrillator to revive the fucker. The next scene is them talking on the phone...making plans, just like that. It always feels like the characters are in the same place they were before, nothing ever seems to change. The two lead are somewhat charming and their hostility is toward each other is the best part of the movie, but it doesn't make the movie better than it is. Again, it's just mildly amusing the lengths these people would go to to keep up this act. This is just your typical romantic comedy, content enough to tread water instead of innovating, but I've seen worse romantic comedies (IE: License to wed).
Jesse Ortega
Super Reviewer
Despite starting in a rush, after the first twenty minutes, Art Of Seduction turns out to be a charming romantic comedy in which the chemistry between the leading couple sparks like fireworks. The movie starts with a succession of random scenes that leave the two main characters, two profesionals of playing with the art of love, as single and ready to play with each other. Then it develops as a typical Hollywood romantic comedy, in a way I find somewhat pleasant. It delivers some funny moments, that are a little bathroom humor at times, sometimes absurd, a pinch restrained sensuality... but never vulgar; it also nails the use of mobile phones in the art of flirting. However, this movie would be just plain boring and not original if it wasn't for Il-guk Song and Ye-jin Son, that make a charming and very attractive couple. If you like romantic comedies, you'll probably like this movie; I guess it also sends little winks here and there so the audience can sympathize with the characters. Other than that, it is just decent filmmaking and pure entertaining, not too much to think about it. Oh! one last thing, give it a plus if you enjoy seeing very attractive and well dressed people (that makes for the majority of us, I think), cute faces and slim bodies all over the place!
Tayro A
Jakeob-ui jeongseok (Art of Seduction) Quotes
There are no approved quotes yet for this movie.
Discussion Forum
Discuss Jakeob-ui jeongseok (Art of Seduction) on our Movie forum!