Jodorowsky's Dune
(2014)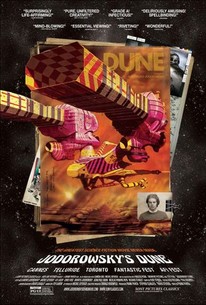 TOMATOMETER
AUDIENCE SCORE
Critic Consensus: Part thoughtful tribute, part bittersweet reminder of a missed opportunity, Jodorowsky's Dune offers a fascinating look at a lost sci-fi legend.
Movie Info
Synopsis: In 1975, Chilean director Alejandro Jodorowsky, whose films EL TOPO and THE HOLY MOUNTAIN launched and ultimately defined the midnight movie phenomenon, began work on his most ambitious project yet. Starring his own 12 year old son Brontis alongside Orson Welles, Mick Jagger, David Carradine and Salvador Dali, featuring music by Pink Floyd and art by some of the most provocative talents of the era, including HR Giger and Jean 'Moebius' Giraud, Jodorowsky's adaptation of Frank Herbert's classic sci-fi novel DUNE was poised to change cinema forever. (c) Sony Classics
News & Interviews for Jodorowsky's Dune
Critic Reviews for Jodorowsky's Dune
Audience Reviews for Jodorowsky's Dune
½
An extremely fascinating, profoundly frustrating yet also surprisingly cheerful account of the greatest adaptation that never was as gloriously envisaged by the mind of an artistic genius obsessed with the idea that he was creating a sacred masterpiece that would change the universe forever.
Carlos Magalhães
Super Reviewer
½
Including all the relevant personalities, here is a decent documentary about a great might-have-been of a film some 38 years after the fact. Putting aside the rose colored lenses that come with looking back after many decades, there is also the estimation of the damage failure leaves on the psyches of the people involved. That aspect was most interesting to me at least. And while Jodorosky was denied the opportunity to give his dreams life, many of his ideas were carried on ... without him. That's gotta hurt. It was interesting.
Kevin M. Williams
Super Reviewer
Dune is a stunning work of Science Fiction Literature, a book so grand that there have been many attempts at trying to adapt it to the big screen, but most of them failed, and with this documentary chronicles one of the failed attempts at bring Frank Herbert's book to the screen. Having read the novel, and enjoyed it greatly, and also enjoyed David Lynch film, and found it to be quite underrated. With that being said, watching this documentary, and hearing Alejandro Jodorowsky talk about his vision of what his Dune could have been is impressive. The man is an eccentric, and he is full of creativity and his version of Dune really could have been an epic picture, even if it took plenty of creative liberties with the source material from Frank Herbert's work. Going into the film, and hearing Jodorowsky's ambitious project, you're simply captivated and you get a picture in your head at what this film could have looked like. Brilliant in the way it tackles a subject such as this, Jodorowsky's Dune is not really a look at a failed attempt, but more so at a triumph of the imagination and creativity in the cinematic medium. Even if it was never made, Jodorowsky's ideas were grand in scope, and ambitious, and if it got made, it surely would have been one of the landmark Science Fiction picture in the cinematic medium. This is wonderful documentary, and truly one of the finest documentaries I have had the pleasure to watch. Watching the film you are captivated with every shot, and you understand that Alejandro Jodorowsky is eccentric, but that's not a bad thing however because the way he talks about his picture that never got made is in such a way that he is enthusiastic and so full of life that you understand that he adores cinema for what it is, and you realize that he could have made a stunning film, and with that being said, because of his enthusiasm, he deserved to make Dune because he probably could have changed the genre of Sci Fi and raised the level of storytelling significantly. The documentary goes in depth with plenty of great interviews from notable people in the industry, and we see concept drawing as well as Jodorowsky's ideas of who would helm the special effects, do the music and act in his film. Considering the level of talent involved in the failed project, it's actually a shock that this film never got made. In a way, even if the project ultimately was shelved due to issues with the budget, Alejandro Jodorowsky had assembled a wonderful team of superb talent that would have made a stunning picture, but these artists such as H.R. Giger, Dan O'Bannon and others would later work on some of the legendary Science Fiction films in the medium. Alejandro Jodorowsky is wonderful to listen to, even if he didn't succeed, his ideas, imagination and creativity is untarnished by the fact that his film never got made. After the film I felt myself saying, Man, I really want to see this film. As a documentary, this is a superb picture, one of new favorites and a stunning story about an eccentric director that tried to bring one of Science Fictions grandest epics to the screen to no success. Like I stated earlier, I view this not as a story of failure, but one of success because it just goes to show that when you put your mind to it, you can imagine and create the greatest things, even if it never came to light. This film shows us a filmmaker that is really passionate about cinema and even if Jodorowsky never got to put his vision to film, we can only imagine how this film would have looked, and raises a lot of possibilities of what could have been. Nevertheless the greatest aspect of the film is that Alejandro Jodorowsky isn't bitter or angry, he's excited and constantly engaging with full of life and idea and of course ambition. With that being said, He definitely seemed like the right person to craft and direct this film that never was. This documentary on the other hand will surely rank among the finest in the genre, and rightfully so. If you love cinema, and have a passion for it, this is definitely worth your time.
Jodorowsky's Dune Quotes
There are no approved quotes yet for this movie.