Joe Versus the Volcano
(1990)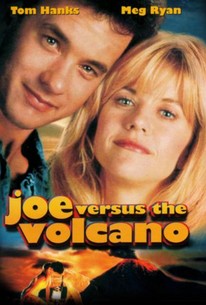 Joe Versus the Volcano Photos
Movie Info
Academy Award-winning screenwriter John Patrick Shanley's first foray into the director's chair is a quirky romantic fantasy, featuring Bo Welch's signature production design. Tom Hanks plays Joe Banks, a man who hates his job, thinks the overhead fluorescent lights are making him sick, and quakes at the presence of his boorish boss Frank Watori (Dan Hedaya). He is attracted to the office secretary DeDe (Meg Ryan) but is afraid to speak to her. Then his life changes when he visits Dr. Ellison (Robert Stack). Dr. Ellison tells Joe that he has something called "a brain cloud" that is rapidly spreading throughout his brain. He will feel great, but he'll be dead within five months. Instead of being depressed at this bleak prognosis, Joe suddenly feels free. He quits his job, asks DeDe out, and is contacted by a rich millionaire named Graynamore (Lloyd Bridges). Graynamore owns an island named Waponi Woo, whose natives need to be placated. The natives require a sacrifice to their island volcano, the Big Woo, so that the island won't sink beneath the Pacific. Graynamore offers unlimited wealth to Tom in exchange for Tom's becoming the object of human sacrifice. Joe has nothing to lose, so he accepts the offer. As he heads out to the island, Joe meets Graynamore's daughters -- Angelica, a Los Angeles socialite, and Patricia, Angelica's blonde half-sister (both roles played by Ryan). Joe arrives at the island, and as he stands at the lips of the Big Woo he has to decide whether he really wants to leap into the maw of the fiery volcano.
People Who Like this movie also like
News & Interviews for Joe Versus the Volcano
Critic Reviews for Joe Versus the Volcano
Audience Reviews for Joe Versus the Volcano
½
Ahhh, the days of sweet youth! Tom Hanks and Meg Ryan look like high school kids in this little comedic trinket that waxes slightly philosophical. Starting out pretty good, reminiscent of Gilliam's "Brazil", it unfortunately degenerates into a misguided and wayward snicker about all those Hollywood movies dreaming about the good life on some tropical isle somewhere. In between there's a message about appreciating life no matter what, and having good luggage. Hanks plays the affable man/boy that made him popular while Ryan has 3 roles, playing herself as the third. You might want to like it more than you actually do.
Kevin M. Williams
Super Reviewer
An Average Joe. An Adventurous Comedy. Not so bad as it's said to be. The movie is probably too allegorical for most tastes, but this is a good tale about a character afraid of life, afraid of that next step, who finds his courage and puts his foot forward again. Joe versus the Volcano is a fable which opens with somewhat surrealistic scenes of the dehumanization of Joe Bank's job and work environment (at a company whose product rather literally screws people) with imagery that seems to have been inspired by the classic film Metropolis. Joe is diagnosed with an incurable disease, quits his dehumanizing job, and accepts an offer to briefly "live like a king, die like a man" - but to fulfill his agreement he must willingly jump into a live volcano on the island of Waponi Woo in order to appease the volcano god. En route to the island, Joe meets a series of interesting characters in NYC and LA, then boards a yacht, captained by Patricia Graynamore. During the voyage Joe and Patricia survive disaster, fall in love, and finally arrive at the island where they face their destiny.
Meg Ryan and Tom Hanks prove once again that they have incredible movie chemistry. Meg Ryan plays 3 astonishingly different women, Dee dee, the shy women, who works with Joe Banks (Hanks), Angelica, the messed up woman living off of daddy's money and the independent and confidant, Patricia. Tom Hanks plays Joe, a man you fears everything in life. This is one of those movies that you'll want to watch again and again for many years to come (:
Cassie Hill
Super Reviewer
Joe Versus the Volcano Quotes
| | |
| --- | --- |
| DeDe/Angelica/Patricia: | I have no response to that. |
| | |
| --- | --- |
| Joe Banks: | But still...We're on a raft... There's no land in site.... I don't now... |
| DeDe/Angelica/Patricia: | It's always gonna be something with you; isn't it, Joe? |
| | |
| --- | --- |
| Angelica: | Well, you're in a rotten mood, Patricia! |
| Patricia: | It's the sunshine: it gets me down. |
| | |
| --- | --- |
| Angelica: | Would you like to hear a poem? |
| Joe Banks: | Ok, sure. |
| Angelica: | Long ago, the delicate tangles of his hair covered the emptiness of my hand. Would you like to hear it again? |
Discussion Forum
Discuss Joe Versus the Volcano on our Movie forum!