John Q
(2002)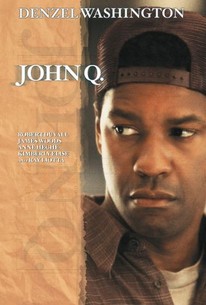 Movie Info
A national health care crisis in the United States yields this tense drama from screenwriter James Kearns and director Nick Cassavetes, who experienced a real-life dilemma with his daughter's congenital heart disease that mirrors the one in this film. Denzel Washington stars as John Q. Archibald, a factory worker facing financial hardship as a result of reduced hours in his workplace. When his young son, Michael (Daniel E. Smith), is stricken during a baseball game, John and his wife, Denise (Kimberly Elise), discover that their child is in need of an emergency heart transplant. Although the Archibalds have health insurance, they are informed by hospital administrator Rebecca Payne (Anne Heche) that their policy doesn't cover such an expensive procedure. Unable to raise the money himself, John persuades the hospital's compassionate cardiac surgeon, Dr. Raymond Turner (James Woods), to waive his lofty fee, but is still left with too much of a financial burden to bear. With no recourse but to take his son home to die, John snaps and holds the staff and patients of the hospital's emergency room hostage at gunpoint. John is soon a media hero, the focus of intense news coverage, even as police chief Gus Monroe (Ray Liotta) and hostage negotiator Frank Grimes (Robert Duvall) try to resolve the situation before it leads to bloodshed. ~ Karl Williams, Rovi
People Who Like this movie also like
News & Interviews for John Q
Critic Reviews for John Q
Audience Reviews for John Q
John Q is a good drama film that could have been much better. With Denzel Washington in the lead, it single handily saves this film from a being a bad film. The script has its flaws, but for the most part it succeeds at delivering a good two hour film. Washington as usual delivers on-screen, and he alone makes this film watchable. I enjoyed the film, thought it was an exciting drama film with a good cast starring opposite Denzel Washington. This may not be the best dramatic thriller, but for what it is, it manages to be a thrill ride from beginning to end. There are things that could have been done better, but for the most part, Denzel Washington's good acting elevates the film from being a mediocre affair to a good film. This is a good film to watch for a mindless two hours. The film has its imperfections, but for most of the time, the formula delivers excitement, drama and thrills. At times the script suffers, but like I said, Washington's performance makes up for it. John Q is entertaining and is a must see film for Denzel Washington fans. This is an underrated film and it doesn't deserve all the flack it has received. Sure it has it flaws, but it is entertaining from start to finish, and it has another solid performance from Denzel Washington, an actor who can turn a somewhat lacking film into something watchable. This is a good film for what it is, and deserves a bit more praise than it has received.
John Q. Archibald: My son is dying, and I'm broke. If I don't qualify for Medicare, WHO THE HELL DOES?  "Give a father no choice and you leave him no option" How far would a father go for his son? Yeah. That's never been done before. And guess what. It's been done way better. John Q is an unoriginal, cliche, overly dramatic movie that even manages to rip off Dog Day Afternoon. Denzel Washington is always good, so I'm not going to complain about him, as he was okay. Everyone else for the most part sucked. Duvall and Liota weren't what I would call bad, but they were playing characters they could play in their sleep. Heche and Woods were bad, but I think a lot of the was their material. Kimberly Elise was horrible as the mother of the dying kid. Okay, now for what I really don't like about this movie. The story is dramatic enough. We have a kid who needs a heart transplant and a father that can't pay for it. But Cassavates goes to extreme lengths to add as many cliche gimmicks as he can to the film. Such as a heart monitor counting down and a series of close calls for the father. He has no confidence in the material and feels the need to insert as much garbage as possible. The movie is very predictable. If you know the premise; after the first scene of the movie you will know what is going to happen.  John Q really is a bad movie. It should and could have been a tearjerker. But I was never emotionally involved. I honestly didn't care because I knew what was going to happen and I was really getting sick of watching the horrible dialogue and characters. I believe the common moviegoer will love this movie. But if you've seen more then 3 or 4 of these type of movies; do yourself a favor and give this one a pass.
Melvin White
Super Reviewer
Denzel can't save this awfully directed movie. Awful direction/cinematography/script. There's literally a scene where a woman goes, "Why are you so brave?" ...the hell? Denzel carries this movie. Without him, this movie would've been crap.
Albert Kim
Super Reviewer
John Q Quotes
| | |
| --- | --- |
| John Q. Archibald: | I will gladly pay you Tuesday for a heart transplant today. |
| | |
| --- | --- |
| Mike Archibald: | Dad! Thank you. |
| | |
| --- | --- |
| Mike Archibald: | No goodbye, you know I don't like goodbyes. See you later! |
| | |
| --- | --- |
| Denise Archibald: | [to Rebecca Payne, the hospital administrator] I would tell you what I think of you, but I am a Christian woman. |
| Denise Archibald: | I would tell you what I think of you, but I am a Christian woman. |