Juan of the Dead
(2012)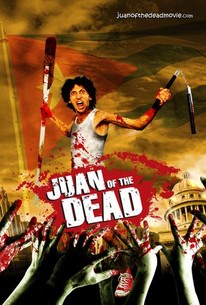 Movie Info
Juan is 40 years old, most of which he spent in Cuba doing absolutely nothing. Juan's only emotional tie is his daughter, Camila, a beautiful young girl that doesn't want anything to do with her father because the only thing he's good at is getting into trouble. Suddenly some strange things start to happen, people are turning violent attacking one to the other. Juan was first convinced it's just another stage of the Revolution. Little by little Juan and his friends start to realize that the attackers are not normal human beings and that killing them is quite a difficult task. They're not vampires, they're not possesed, but they're definitely not dissidents; a simple bite turns the victim into other violent killing machine and the only way to beat them is destroying their brains. Juan decides that the best way of facing the situation is making some money out of it..... -- (C) Official Site
Critic Reviews for Juan of the Dead
Audience Reviews for Juan of the Dead
[img]http://images.rottentomatoes.com/images/user/icons/icon14.gif[/img]
Directors Cat
Super Reviewer
As a Cuban version of 'Shaun of the Dead' this has a lot to compete with and if it doesn't hit the heights of that horror-comedy classic (or for that matter 'Zombieland') there is still a lot to enjoy here. The main group of 'heroes' are a lot less likeable than their British and American counterparts but the film makes it clear that life in Cuba under Castro's regime has hardened these people and sentimentality and compassion for your fellow man is a thing of the past. The fact that by the end of the film the main character has found his heart is perhaps predictable but still satisyfing. Laugh out loud moments include Juan's best friend and his haphazard way of firing his harpoon gun at the wrong moments, a bodybuilder who keeps fainting at the sight of blood so has to wear a blindfold when fighting and a novel way of decapitation that I imagine is similar to the way people produce crop-circles!
David Sayers
Super Reviewer
This is the Cuban (!) response to Britain's Shaun of the Dead: A zombie comedy. Of course they do not reinvent the wheel with the plot and the elements are the usual ones you'd also see in a students horror productions, but the setting and the feel of it all is so different that the film works for most parts. There are quite a few genuinely funny scenes, lots of splatter and the usual parade of everyday characters: the fat, disgusting sidekick, the gorgeous kick-ass daughter, the womanizer son, but also: the drag queen and her muscle man who can't see blood. The make-up effects are quite decent for an indie production, the computer effects on the other hand look a bit cheap. Given the film's heritage it may not be surprising that there's quite a bit of commentary on Cuba, the USA, capitalism etc. if you are reading between the lines. The film decides to make fun of all sides. Overall pretty amusing, even if sometimes a bit amateurish. For fans of the genre.
Juan of the Dead Quotes
There are no approved quotes yet for this movie.
Discussion Forum
Discuss Juan of the Dead on our Movie forum!