July Rhapsody
(2003)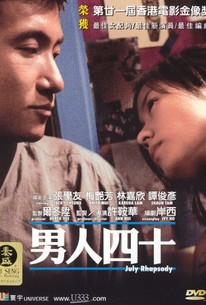 AUDIENCE SCORE
Critic Consensus: No consensus yet.
Movie Info
A subtle study in the deterioration of relationships and the strains of a broken marriage, director Ann Hui's character driven drama draws on Chinese poetry to tell a tale of infidelity and pensive yearning. Tempted by the advances of an amorous student, Chinese Literature professor Lam (Jackie Cheung) considers an extramarital affair while still reeling in the pain of wife Man Ching's (Anita Mui) previous infidelity. As depression and boredom push the couple further apart, Professor Lam's moral devotion to his wife places him at odds with the pain he harbors from their tumultuous past.
Critic Reviews for July Rhapsody
All Critics (2) | Fresh (1) | Rotten (1)
This touching film is mesmerizing, yet when you leave the theater you may find yourself surprised that so little happened. Ah, but what does is so exquisite.

Audience Reviews for July Rhapsody
½
woah, sunday morning and my weekend plan is still untouched: [list][*]"complete my article on olympic wushu/berkeley cmat" - all i did is found the tape where i have the interviews of bryant fong and cui yahui and organize the pics i collected from several sources.[*]"see a friend from spain probably tomorrow night" - shame on me, i received two calls from him but did not reply, i didn't feel like going to the city last night, instead i stayed home watching DVD's. I will have to give him some lame excuse next week.[*]"organize my apartment" - ha, this is like a joke, i only have two big boxes left and 3/4 of shelf furniture to organize, still i don't do it...[*]oh, and the activity score ended skate 4 - wushu ZERO :([/list]so on the movies side, i watched two interesting independent movies, hard to rate though, one is [u]chinese chocolate[/u] made in canada mostly with chinese actors that is supposed to explore sexuality of chinese women living in the west, but to me what it really does is highlight the aweful situations that inmigrants have to go thru, in this case, women. I can relate perfectly to those stories becuase i have been friends with chinese inmigrants in all the countries i have lived, so i have seen stories and met people like the ones shown in the movie and even worse than that. another of the DVD's i saw was an independent, more on the experimental side, korean movie called [u]301/302[/u]... domestic violence and psychological problems or effects shown under strong symbolism of food, story is told in dissorder with a lot of flashbacks. last DVD, a hongkonese production called "men in their fortys (nan ren si shi)" but just found out in english is called "[u]july rhapsody[/u]" hehe... oh man, this movie tells the story of a guy at 40 being teased by a highschool 17 y.o. girl... no comments! the guy is married and has two kids, has also some wicked past stories with his wife and they are revealed to their older son... interesting movie, but can be a bit hard for those who are getting closer to 40 and like young girls ;). [center][img]http://perso.wanadoo.es/jlpaufil2/tiff/karena_2.jpg[/img][img]http://perso.wanadoo.es/jlpaufil2/tiff/karena_1.jpg[/img][img]http://perso.wanadoo.es/jlpaufil2/tiff/karena_3.jpg[/img][/center] the girl happens to be the very realistically cute karena lam, the same one who acted in that leslie cheung movie "inner senses", the man is a very convincing jackie cheung. okay, let the sunday continue...
Emilio Alpanseque
July Rhapsody Quotes
There are no approved quotes yet for this movie.
Discussion Forum
Discuss July Rhapsody on our Movie forum!