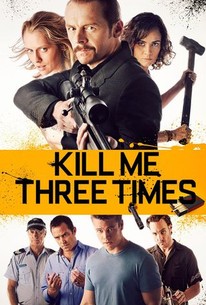 Kill Me Three Times
2014, Action/Mystery & thriller, 1h 30m
57 Reviews
2,500+ Ratings
What to know
critics consensus
Kill Me Three Times offers Simon Pegg an opportunity to play against type as a villain; unfortunately, its derivative storyline fails to offer much of anything to viewers. Read critic reviews
Where to watch
Rent/buy
Rent/buy
Rent/buy
Rate And Review
Kill Me Three Times Photos
Movie Info
While on a seemingly routine job, a jaded hit man (Simon Pegg) discovers that he's not the only one with his target in the crosshairs.
News & Interviews for Kill Me Three Times
Audience Reviews for Kill Me Three Times
Why this has the rotten RottenTomato score it has is a mystery to me. This modern day noir casts Pegg against type thankfully, as a hitman loose in a remote seaside village where no one, in typical noir fashion, is innocent. Quite enjoyed the romp and think you might as well.

This is not a particularly good film to be honest. Solid cast aside, pretty much down what they can to salvage this, there's not much to this film that doesn't feel like you hasn't been done better by the Coens or Quentin Tarantino. For a movie that centers around assassination, this really is quite the lifeless experience. I just found that the pacing, telling the story of Alice's murder in three sequences from three different perspectives, pretty much killed any chance the film had of being good or even remotely interesting. It's not that the changes in perspective is jarring, or even that confusing, it's that it feels completely unnecessary and ruins the flow of the film. Not that I think it would've been a better film if it hadn't taken this approach, but it would've felt like it had actual structure. I think the film pretty much cuts its own feet off with this method. It just never seems to get its footing. Once something even remotely interesting occurs you're shipped off to a completely different scene with no rhyme or reason. Characters don't get nearly enough time to develop so you can invest in who they are and why you should care about their goals throughout the film. For what's meant to be a darkly comedic film, this film offers very little in the way of laughs, it lacks suspense and it's not dramatic. Like what in the fuck is this film supposed to be? What demographic is this meant actually meant for? This film takes a group of talented actors and completely wastes the ever-loving shit out of them. They're still the only decent part about this film, but they don't even do much to elevate the film that much. It's just way too poorly constructed for it to have any sort of lasting effect. Honestly, this is a really bad film, I realize I didn't have much to say, but this film is just a complete mess. It's not even so bad that it's actually kind of funny, it's just plain bad and I can't believe this film honestly ever saw the light of day. Not that it's the worst film I've ever seen, but I just thought that the cast would've pooled together their resources to buy out this film and never allowed it to be shown so as to not have any ill effects on their subsequent projects or roles they may be up for. Perhaps that's a little harsh to say but this is a real bad movie. Do not watch this, please. Mad Max: Fury Road is better and it features Australians, so if you need your dose of the Australian accent, then watch Fury Road instead. Bad, bad, BAD movie here.

An entertaining dark comedy, Kill Me Three Times delivers some fun laughs. The story follows a hitman named Charlie Wolfe who's hired to kill a businessman's wife, but the job goes sideways when she's abducted by a couple that's plotting an insurance scheme. It's a little convoluted, but it's told in an interesting nonlinear way. Starring Simon Pegg, Alice Braga, and Teresa Palmer, the film has a pretty decent cast that does well with this type of humor. Yet the tone is a little uneven, and most of the characters are undeveloped. Kill Me Three Times has some weakness, but overall is a fairly entertaining indie comedy.

Not so good as any of the movies it painfully obviously wishes it was, but much better than the film I was expecting after reading the reviews and critical scores it was getting. Maybe it's just my well documented appreciation of Simon Pegg and Callan Mulvey, or maybe I'm just keen on gangster-themed clusterfucks, or maybe I'm bias 'cause I live in Australia and we almost never get to have films set here, but liked Kill Me Three Times just fine.
See Details