King Dinosaur
(1955)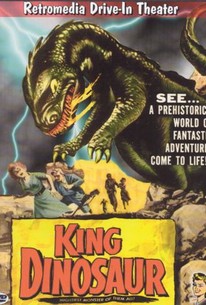 AUDIENCE SCORE
Critic Consensus: No consensus yet.
Movie Info
From the title on down, King Dinosaur consistently promises more than it delivers. Filmed in three days by quickie king Bert I. Gordon, the story is predicated on the notion that a new solar system has set up shop "a half-year's rocket flight away" from our own. A group of intrepid space travellers blast off (via stock footage of Germany's V-2 rocket) to explore the earth's new neighbors. Upon landing on one of the planets (actually the mountains surrounding Los Angeles) the astronauts confront all manner of outsized reptiles (courtesy of clips from One Million BC). They are also "attacked" by a harmless-looking kinkajou. When the planet's dinosaurs threaten our heroes, the huge lizards are dissipated by an atomic-bomb blast (more library footage). Having made the planet safe for colonization (?), the space travellers return to Earth. Finding nice things to say about King Dinosaur is about as easy as swallowing lighter fluid.
Critic Reviews for King Dinosaur
There are no critic reviews yet for King Dinosaur. Keep checking Rotten Tomatoes for updates!
Audience Reviews for King Dinosaur
The dinosaurs are actually just (obviously) lizards.
Sylvester Kuo
Super Reviewer
Crap is truly the only thing that will sum this review up. There is nothing good about this movie NOTHING. So a new planet called Nova is moving into the solar system and our governments decide to take a look. On this planet there is nothing but some dinosaurs and Most of all KING DINOSAUR. Everything about the movie is bad Acting, Story, Special effects, Music, Settings, ETC. The only good part is some entertaining lizard fights but that's it. Most of the dinosaur footage is just stock from another film. Don't see this movie only do if you are a die hard fan of all this stuff. Keiko's score 9-100
King Dinosaur Quotes
There are no approved quotes yet for this movie.
Discussion Forum
Discuss King Dinosaur on our Movie forum!