Lady Bird
(2017)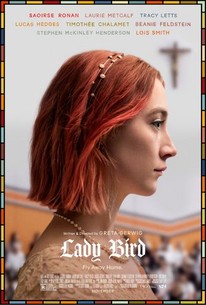 TOMATOMETER
AUDIENCE SCORE
Critic Consensus: Lady Bird delivers fresh insights about the turmoil of adolescence -- and reveals writer-director Greta Gerwig as a fully formed filmmaking talent.
Movie Info
In Lady Bird, Greta Gerwig reveals herself to be a bold new cinematic voice with her directorial debut, excavating both the humor and pathos in the turbulent bond between a mother and her teenage daughter. Christine "Lady Bird" McPherson (Saoirse Ronan) fights against but is exactly like her wildly loving, deeply opinionated and strong-willed mom (Laurie Metcalf), a nurse working tirelessly to keep her family afloat after Lady Bird's father (Tracy Letts) loses his job. Set in Sacramento, California in 2002, amidst a rapidly shifting American economic landscape, Lady Bird is an affecting look at the relationships that shape us, the beliefs that define us, and the unmatched beauty of a place called home.
News & Interviews for Lady Bird
Critic Reviews for Lady Bird
Audience Reviews for Lady Bird
½
Extremely well-done, small-scale, coming-of-age drama. Emotionally affecting and surprisingly funny. Ronan delivered a very profound performance.
Spencer Macklin
Super Reviewer
½
Sometimes a film doesn't need to involve an elaborate plot or characters. Sometime a film does perfectly fine by showing regular people in regular situations. Lady Bird deals with a young woman, who happens to prefer to be called Lady Bird, as she goes through her senior year of high school, applying to colleges, and doing what girls do at that age. Saoirse Ronan plays Christine "Lady Bird" McPherson, who is a rebellious and eccentric young woman who wants anything but staying home in Sacramento for life beyond high school. The film moves at a rapid pace and for a good chunk of the film you don't really know the direction the film is taking. "So what is really the point?" is the question I continued to ask myself. But in reality, the answer was right in front of me. This film is about a mother and a daughter, the trials and tribulations they go through, but how they ultimately realize the love they have for each other is mutual though constantly tested. And even though this film is certainly a comic of age story, it by no means is your typical romantic coming of age where boy meets girl or vice versa. This film is a coming of age story of a mother and daughter. Both tremendously played by Laurie Metcalf and Saoirse Ronan respectively. What I found so compelling is that as weird as Lady Bird can be in her approach to life, it's still written in a way that is relatable to the average person. In fact, I can't say that I know first hand what that relationship is like, being a guy, but there's something so special about the way these two people rip each other apart but are aware of the meaning of each other's presence in their lives. Writer-director Greta Gerwig does such a beautiful job of presenting this scenario in several scenes throughout the film. And really, I shouldn't expect anything less from her with the particular choices she has made with acting in the last decade or so. From Gerwig's fast moving script, to the bold choices made by Metcalf and Ronan, to the strangeness of Lady Bird's character, all the way to the heart breaking moments towards the end, Lady Bird is easily one of my favorite films of the year. There are a few subtle lines and scenes near the ending that I won't forget and are some of the more powerful things I have seen/heard in a film this year. Major props all around. I love Lady Bird. 9.5/10
Thomas Drufke
Super Reviewer
½
Coming-of-age movies typically coast on a combination of mood, sense of place, and character, and Greta Gerwig's Lady Bird excels in all areas and supplies a straight shot of happiness to the senses. Gerwig serves as solo writer and director and tells a semi-autobiographical story of "Lady Bird," a quirky, determined, feisty, self-involved, and vulnerable teenager (Saoirse Ronan) trying to leave the lower-middle-class confines of her Sacramento life for bigger pastures. Ronan (Brooklyn) is spectacular in the title role and displays a heretofore-unseen sparkling sense for comedy, punctuating Gerwig's many witty lines with the exact right touch. This can be a very funny movie and it has a deep ensemble of players. Ronan's character is a magnetic force of nature that commands your attention and finds ways to surprise. The film follows her high school senior year's ups and downs, potential new friends, bad boyfriends, social orders, family struggles, jobs, and most importantly her dream of getting into an East Coast college and leaving the trap she sees is her hometown. Her parents (Laurie Metcalf, Tracy Letts) are stressed and exasperated with their demanding daughter. Metcalf (TV's Roseanne) is outstandingly affecting as the beleaguered matriarch. Much of the movie's ongoing conflict, and later triumphs, revolve around the fraught mother/daughter relationship, and Ronan and Metcalf are never better than when squaring off. This is a movie rich in authentic lived-in details and observations. It can stray into overly quirky territory but Gerwig as director has a remarkable feel for when to hold back. There's a genuine and poignant family drama at its heart that doesn't get lost amid the whimsical additions that cater to Lady Bird's vibrant personality. By the end of a coming-of-age movie, the characters should feel a little wiser, having learned through heartache, bad choices, and changes in perspective. This isn't a movie about big moments but about the ebb and flow of life and the formation of one's sense of self. We should enjoy having spent time with these characters on their journeys. With Lady Bird, I couldn't stop smiling like an idiot. Nate's Grade: A-
Nate Zoebl
Super Reviewer
Lady Bird Quotes
There are no approved quotes yet for this movie.
Discussion Forum
Discuss Lady Bird on our Movie forum!