Laskar pelangi (The Rainbow Troops)
(2008)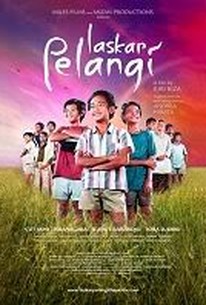 AUDIENCE SCORE
Critic Consensus: No consensus yet.
Movie Info
One teacher makes a surprising difference in his students and his community in this drama from Indonesian filmmaker Riri Riza. Ikal (Lukman Sardi) was born and raised on Belitong, an island dominated by local mining concerns. On Belitong, a handful of people have become rich off the island's natural resources while those who work the mines see little of the financial rewards, creating a sharp divide of social and economic class. But Ikal recalls one man who sought to change this -- Muslimah (Cut Mini), a teacher at the island's public school. In a place where many felt their destiny was determined by their parents' occupations, Muslimah encouraged his students to believe that knowledge could overcome the artificial barriers that come with money and position, and his message had a powerful impact on youthful Ikal (Zulfani) and his pal Lintang (Ferdian). Laskar Pelangi (aka The Rainbow Troops) was an official selection a the 2009 Berlin International Film Festival.
Critic Reviews for Laskar pelangi (The Rainbow Troops)
There are no critic reviews yet for Laskar pelangi (The Rainbow Troops). Keep checking Rotten Tomatoes for updates!
Audience Reviews for Laskar pelangi (The Rainbow Troops)
One of the best indonesian movie in store today from a brilliant Indonesian director Riri Riza. Hope that Indonesia could make more of movies like this in the future. It can be described as a fun one and it teaches us how to not be afraid to dream a little more.
Nadira Irdiana
Super Reviewer
A great story by Andrea Hirata met by a great visualization by Riri Riza as the director and Mira Lesmana as the producer with a big help from Nidji for the great soundtrack... Laskar Pelangi is a movie that full of joy, make us want to smile, to keep dreaming after watching this movie... A struggle from 10 wonderful kids from Belitong for having them the right education with a help from 2 great teachers, Muslimah and Mr. Harfan... Laskar Pelangi is another different Indonesian movie, a masterpiece from Riri Riza... A movie that makes you want to smile while watching it, and pure inspiration movie that teach us to kept dreaming even that dream was really really hard to be realized... A recommended Indonesian movie...
Sanjaya 丘耀文
Super Reviewer
Laskar pelangi (The Rainbow Troops) Quotes
There are no approved quotes yet for this movie.