The Last Picture Show
(1971)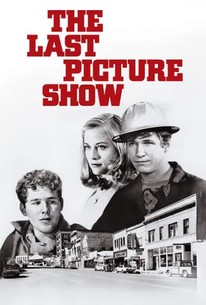 TOMATOMETER
AUDIENCE SCORE
Critic Consensus: Making excellent use of its period and setting, Peter Bogdanovich's small town coming-of-age story is a sad but moving classic filled with impressive performances.
The Last Picture Show Photos
Movie Info
Produced by Hollywood iconoclast BBS Productions, film critic-turned-director Peter Bogdanovich's 1971 film pays homage to Hollywood's classical age as it chronicles generational rites of passage in Anarene, a fictional one-horse Texas town. In 1951, high school seniors Sonny (Timothy Bottoms) and Duane (Jeff Bridges) play football, go to the movies at the Royal Theater, hang out at the pool hall owned by local elder statesman Sam the Lion (Ben Johnson), and lust after rich tease Jacy Farrow (Cybill Shepherd in her film debut). As the year passes, Sonny learns about the pitfalls and compromises of adulthood through an affair with his coach's wife Ruth (Cloris Leachman) and a thwarted elopement with Jacy after she dumps Duane. Following two tragic deaths, and with Duane gone to Korea and Jacy packed off to college in Dallas, Sonny is left behind in Anarene, wise enough to absorb the life lessons of Sam the Lion and Jacy's mother Lois (Ellen Burstyn). He is determined to honor Sam's legacy as the town's conscience, despite a telling sign of incipient communal disintegration: the closing of the Royal Theater after a final showing of Howard Hawks's Red River. Paying tribute to classical Hollywood directors like Hawks and John Ford, Bogdanovich used old-time cinematographer Robert Surtees and shot The Last Picture Show in crisp black-and-white, with a restrained style devoid of the kind of "new wave" techniques (jump cuts, zooms, and jittery hand-held camerawork) used by such contemporaries as Arthur Penn, Robert Altman, Mike Nichols, and Martin Scorsese. As in such Ford films as The Grapes of Wrath (1940), Bogdanovich relies on careful visual composition in deep focus to help communicate the regret over the passing of an era. Hailed as one of the best films by a young director since Citizen Kane (1941), The Last Picture Show premiered at the New York Film Festival and went on to become a hit. It was also nominated for eight Oscars, including Best Picture, Best Director and Best Screenplay for Larry McMurtry's and Bogdanovich's adaptation of McMurtry's novel. John Ford stalwart Johnson won Supporting Actor and Leachman won Supporting Actress, beating out their cohorts Bridges and Burstyn. For an audience steeped in movie history and caught up in the chaotic 1971 present, The Last Picture Show presented a nostalgic look backward that was not so much an escape from the present as a coming to terms with what the present had lost. Its 1990 sequel Texasville, in which Bridges and Shepherd played later incarnations of their original characters, was not as successful.
News & Interviews for The Last Picture Show
Critic Reviews for The Last Picture Show
Audience Reviews for The Last Picture Show
From my local magazine review that i wrote: "Director Peter Bogdanovich has seen Anarene, Texas, in the cinematic terms of 1951 -- the languorous dissolves, the strong chiaroscuro, the dialogue that starts with bickering and ends with confessional."
Coxxie Mild Sauce
Super Reviewer
½
This is, by all accounts, supposed to be Peter Bogdanovich's masterpiece. Since this is the only film of his I've seen, I can't verify that statement for sure, but I did really like it. The story is that of a coming of age tale set in small town Texas during the 1950s. The town is a boring and isolated place, where there's really not a whole lot to do, and, even though everyone knows (or seems to know) everyone else's business, there's a lot of iffy stuff going on. The people (especially the youth) are bored, preoccupied with sex, and dying to get the Hell out of town and to some place better ASAP. The film was shot like, and has the look of a film from the 1950s. Aside from some of the content (mostly nudity), this could pass for a 1950s film as well. The landscape are suitably bleak, and everything looks simultaneously stark and beautiful thansk to being shot in black and white. The music is made up entirely of popular stuff, almost all country, and that's just fine. The performances are areally good. Jeff Bridges is fun to watch, and Cybil Shepherd, despite being an angsty tart (hell, everyone is angsty, dissatisfied, and messed up) gives a decent performance as well, and looks quite stunning (naked or otherwise) in just about every scene. Leachman and Bustyn are also quite good. Bottoms is the lead, and he's good, but it was hard for me to get into him as much as the others. For a film about boredom, and the slow rotting effects of it, maybe it's not a surprise that this is also itself a little boring and tedious at times. Not so much so that it truly takes away from things, but it is something to note. Maybe they just need to slightly tighten thigns up here and there. I was watching the Director's Cut though, so maybe that has something to do with it. Though this film is not a part of the time period it depicts, it fits in perfectly with the time period it was made. Maybe that's one of the many reasons I liked it. I love that era of cinema, so I'm automatically sorta biased. Despite that though, I still really dig this. It's not something I wanna watch all the time, but it looks great, the style and formal elements are cool and well done, and I can relate in some ways to the characters and story. Hats off.
Chris Weber
Super Reviewer
½
A tender yet melancholy coming of age film that looks at the erosion of the American ideal. Set in 1951 and presented in black and white, this film provided viewers with a nostalgic look back into the recent past. A time that was supposed to be wholly unlike the early 1970s of America, which was still digesting the uncivil wars of the late 1960s and the subsequent final push of the Vietnam war. Yet, rather than provide viewers with an escape, Bogdanovich strips away the veneer of the tranquil & genteel past and shows viewers instead that, as the tagline suggests, "nothing much has changed." The film shows that even in the 1950s, when America was held together (albeit forcefully) by the spectre of Communism, people felt lost. Some dealt with it through sexual experimentation, escapism, and even going off to fight in an unpopular war. Bogdanovich brilliantly captures this stigma of a wayward national identity. The director also gets brilliant performances out of this young but adroit cast. His camera is seldom invasive and mostly sits back and lets the bucolic pandemonium unfold in the characters eyes. It is a subtle film, but it has a lot to say and says it well. My only regret is that I was not alive to see the premiere of this film.
The Last Picture Show Quotes
| | |
| --- | --- |
| Duane Jackson: | I'll see you in a year or two, if I don't get shot. |
| | |
| --- | --- |
| Sonny Crawford: | "He was sweepin you sons-a-bitches! He was sweepin!" |
| Sonny Crawford: | He was sweepin you sons-a-bitches! He was sweepin! |