Legion
(2010)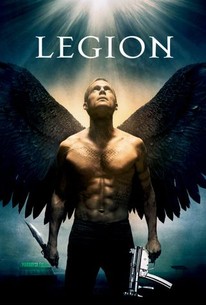 TOMATOMETER
AUDIENCE SCORE
Critic Consensus: Despite a solid cast and intermittent thrills, Legion suffers from a curiously languid pace, confused plot, and an excess of dialogue.
Movie Info
Scott Stewart's supernatural thriller Legion, scripted by Peter Schink, concerns a group of strangers in an out-of-the-way eatery who become the first line of defense when God, believing the human race is no longer worthy of Him, decides to end their existence. This motley crew's only spiritual ally is the archangel Michael, played by Paul Bettany. Dennis Quaid, Tyrese Gibson, Charles S. Dutton, and Lucas Black co-star in the Screen Gems production. ~ Perry Seibert, Rovi
People Who Like this movie also like
News & Interviews for Legion
Critic Reviews for Legion
Audience Reviews for Legion
½
[img]http://images.rottentomatoes.com/images/user/icons/icon13.gif[/img]
Directors Cat
Super Reviewer
½
Legion is a supernatural biblical horror flick that had the potential of being so much better than what it turned out to be. The film's biggest problem is that it relies more on special features than on story, thus the plot itself suffers from lacking ideas and undeveloped characters that really doesn't pay off. Legions had a very interesting concept, but it really didn't ended being a boring, unimpressive ride that simply failed at being a memorable and ultimately enjoyable film. There are a few chilling moments, but it's not enough to make for a memorable horror picture. The end of the world aspect of the film really didn't tie in to the overall story and I felt it was pretty sloppy. The way it was thrown in to the movie, seemed lazy and out of place, as if the filmmakers just needed some leverage to the films plot. The film's downfall is aided by a wooden cast of actors, and the somewhat good start quickly falls apart and becomes a train wreck. If the film had a better plot, and didn't rely entirely on special effects, I think that this would have been a more compelling film to watch. As it stands, Legions is a poor horror tale that is quite forgettable in the long run. The film is defi8nitely not worth your time, and it's just an effects extravaganza that lacks plot, good characters and memorable chills. Legions fails in terms of a horror film with religious overtones, and the potential in making a great picture is wasted after the first thirty minutes of the film when the film relies more on effects. Legions is a film that lacks substance and good direction. This is not a film worth your time, and it's a poor attempt at creating a biblical horror yarn.
It sounds like from an old John Carpenter movie: the world's fate decides on the residents of a desert diner, who desperately fight for their lives as God's army is trying to get to a pregnant woman among them. Because, you know, God had it with this crappy Earth and only one of his arch angels is on our side. What promises creepy fun or cool stand offs is sadly rather dumb. The film misses out on bringing biblical motifs or characters to the mix and instead throws ice cream truck drivers, grannies and kids obsessed by demons at the protagonists. That's lame and never really exciting. Things get a tad cooler when Gabriel comes down from heaven to take on his brother Michael. The showdown is better than the first half but only makes you realize how many opportunities for a fun apocalyptic ride have been missed here. Meh.
Legion Quotes
| | |
| --- | --- |
| Charlie: | When I was a little girl, my mother spoke of a prophecy, of a time when all the world would be covered in darkness and the fate of mankind would be decided. One night I finally got the courage to ask my mother, why God was so mad at His children. "I don't know," she said tucking the covers around me, "I guess He just got tired of all the bullshit." |
| | |
| --- | --- |
| Michael: | When God chose your kind as the object of His love, I was the first in all of heaven to bow down before you. My love, my hope for mankind was no less than His. But I have watched you trample that gift. I have watched you kill each other over race and greed... waging war over dust and rubble and the words in old books. And yet, in the midst of all this darkness, I see some people who will not be bowed. I see some people who will not give up, even when they know all hope is lost. Some people, who realize being lost is so close to being found. I see you, Jeep. Fifteen years old, your mother leaves. Your father withdraws from the world and you spend the next five years of your young life helping him find his way home. You love a woman who bears the child of another and you love her with no thought of yourself, even though you know she may never love you the way you love her. You, Jeep... you are the reason I still have faith. |
Discussion Forum
Discuss Legion on our Movie forum!