Lips of Blood (Lèvres de sang)
(1975)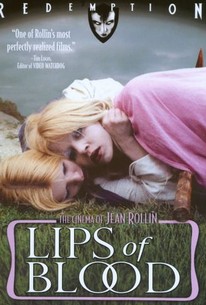 AUDIENCE SCORE
Critic Consensus: No consensus yet.
Movie Info
A man discovers that his dreams have become reality, only to learn that they have a deadly undercurrent, in this horror story for adults. Pierre (Jean-Lou Philippe) is haunted by a persistent dream in which he spends the night with a beautiful women in a white gown who lives in an ancient mansion, though she invariably awakes with no memory of him. Pierre is convinced that his dream has some basis in his past, but his mother scoffs at the notion. One day, Pierre sees a photograph in a perfume advertisement that looks just like the mansion he's seen in his dreams, and he arranges to meet the woman who took the pictures at a movie theater. While he waits for her, he encounters the mysterious woman in white, and as he follows her, he discovers a strange coven of the living dead -- a band of beautiful women who need to drink human blood to survive. Lips of Blood was directed by the French master of erotic terror, Jean Rollin.
Critic Reviews for Lips of Blood (Lèvres de sang)
There are no critic reviews yet for Lips of Blood (Lèvres de sang). Keep checking Rotten Tomatoes for updates!
Audience Reviews for Lips of Blood (Lèvres de sang)
Sparked by an image he sees on a postcard, a man starts having visions of a girl he met and fell in love with when he was 12; mysterious people try to stop him from finding the castle in the photograph, while twin vampires in see-through nighties help him from afar. Slow-moving atmospheric horror drama with lots of sex and nudity (that's the Jean Rollin way), but it drags at times and the ending has little payoff.
An interesting vampire movie from Rollin, not good, not bad, just interesting. It's atmospheric and exotic like most of his work. The story is mysterious and a bit confusing too. Overall, it's an okay movie.
Lips of Blood (Lèvres de sang) Quotes
There are no approved quotes yet for this movie.