Lu ding ji (Royal Tramp)
(1992)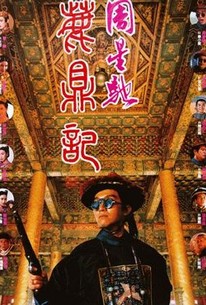 AUDIENCE SCORE
Critic Consensus: No consensus yet.
Movie Info
The story of Wilson Bond, a pimp who after saving Chan, the leader of the Heaven and Earth society, a revolutionary group, is made a member. After a botched first assignment for the group, he is made a servant to the Prince, the very person the Heaven and Earth society want to overthrow. What follows is plenty of mayhem and laughter.
Critic Reviews for Lu ding ji (Royal Tramp)
There are no critic reviews yet for Lu ding ji (Royal Tramp). Keep checking Rotten Tomatoes for updates!
Audience Reviews for Lu ding ji (Royal Tramp)
After witnessing the ninja attack/massacre at the beginning I thought to myself, "I'm getting close to 40 years old! How is it no one has told me about this!? How have I not seen this already!?". From there it becomes a fun Chow comedy. What I love about his humour is best given with an example of a common scene, but with that Chow touch. Chow's arms are hidden behind his back while 2 well hidden women pretend to be his arms when he is confronted. American audiences have seen this gag many times before, heck, Who's Line is it Anyway has a segment on the gag called Helping Hands. But what makes it hilarious when Chow does it (though I do confess I like the gag in almost all cases) is when the hands beat the shit out of him until he's vomiting blood. Now that's comedy gold. A funny comedy with some great martial arts scenes that's well worth seeing for fans of Chow's work.
Christopher Brown
Super Reviewer
This movie made me cried in tears twice because of its funniness. I couldn't stop laughing. There are times when it's even more funny because of some jokes that breaks the 4th wall. I dispise director Jing Wong for not keeping his director's pride by...(read more) accepting and directing pretty much any written material that's called "screenplay". He's pretty much sold his soul for b-movies and dumb scripts. But then, he's so talented that he can make any supposely a trashy movie into a somewhat decent film with some luck of good actors such as, Stephen Chow, Jet Li, Chingmy Yau, Andy Lau, etc.
Classic mix of comedy and Kung Fu. One of Stephen Chow's best!
Anthony Valletta
Super Reviewer
Lu ding ji (Royal Tramp) Quotes
There are no approved quotes yet for this movie.