Margin Call
(2011)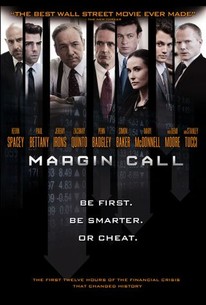 TOMATOMETER
AUDIENCE SCORE
Critic Consensus: Smart, tightly wound, and solidly acted, Margin Call turns the convoluted financial meltdown of '08 into gripping, thought-provoking drama.
Movie Info
Set in the high-stakes world of the financial industry, Margin Call is an entangling thriller involving the key players at an investment firm during one perilous 24-hour period in the early stages of the 2008 financial crisis. When an entry-level analyst unlocks information that could prove to be the downfall of the firm, a roller-coaster ride ensues as decisions both financial and moral catapult the lives of all involved to the brink of disaster. Writer/director J.C. Chandor's enthralling first feature is a stark and bravely authentic portrayal of the financial industry and its denizens as they confront the decisions that shape our global future. -- (C) Roadside Attractions
People Who Like this movie also like
News & Interviews for Margin Call
Critic Reviews for Margin Call
Audience Reviews for Margin Call
Chandor creates a gripping and intelligent drama that relies on a careful pace, a very sharp ensemble cast and constant first-rate dialogue to depict with a fascinating and acute realism the 24 hours prior to the financial crisis of 2008 at an investment firm.
Carlos Magalhães
Super Reviewer
Owing a huge deal to David Mamet and his cunning, no nonsense, hyper realistic dialogue; first time writer-director J. C Chandor weaves an equally engrossing character driven exploration of capitalist excesses. A top notch cast that uses Chandor's words as fists in the struggle to remain in their unnamed company, which resemblances the extinct Lehman Brothers and the causes that led to its downfall. Especial mention to the almost reptilian-like head honcho of the firm, an impeccable and sinister Jeremy Irons.
Pierluigi Puccini
Super Reviewer
½
A re-telling of the 2008 financial crisis that casts it as Greek tragedy and very nearly respects the three classical unities, covering one main action (the collapse of this firm's solubility), one main physical space (the office, though it does branch out a little, to a car, a bar and a porch), and lasting not more than 24 hours. The ensemble cast is excellent, the mood is dark, the events are totally believable, the stakes are high, and on top of all that, there's a speech that, in my opinion, supplants Gordon Gecko's "Greed is good" in Oliver Stone's Wall Street, which I watched after this and found lacking in comparison. One of the more underrated films of the past few years - hard-hitting, essential viewing.
Daniel Perry
Super Reviewer
Margin Call Quotes
| | |
| --- | --- |
| Will Emerson: | "I'm all out of nicorettes, which means in about ten minutes I'm going to kill somebody." |
| Will Emerson: | I'm all out of nicorettes, which means in about ten minutes I'm going to kill somebody. |
| | |
| --- | --- |
| Seth Bregman: | "This could be huge. The losses would be greater than the current value of the company." |
| Seth Bregman: | This could be huge. The losses would be greater than the current value of the company. |
| | |
| --- | --- |
| Eric Dale: | "I was working on something but they didn't let me finish. Here, take a look at it. Be careful." |
| Eric Dale: | I was working on something but they didn't let me finish. Here, take a look at it. Be careful. |
| | |
| --- | --- |
| John Tuld: | "Speak to me as you would a 2 year old or a golden retriever." |
| John Tuld: | Speak to me as you would a 2 year old or a golden retriever. |
| John Tuld: | Speak to me as you would a small child or a golden retriever. |