Mosquito
(1994)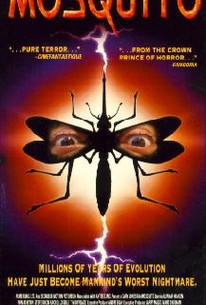 Movie Info
A group of unsuspecting campers are faced with a threat from which no amount of bug spray can protect them in this sci-fi/horror thriller. An alien spacecraft crash-lands in a state park near a lake, and several hungry mosquitoes feed on the blood of the deceased spacemen. They soon mutate to many times their normal size, and Megan (Rachel Loiselle), a biology student, and her boyfriend Ray (Tim Lovelace), are startled when a bug crashes into their windshield -- a mosquito the size of a bald eagle. Megan and Ray soon join forces with Parks (Ron Asheton), the bumbling park ranger; Earl (Gunnar Hansen), a survivalist with a criminal past; and his pal Junior (Mike Hard), to do battle with the swarm of ever-expanding bugs. Rock fans note: Ron Asheton was guitarist with legendary proto-punks Iggy and the Stooges and penned a new song for the soundtrack, while Mike Hard was the lead singer with the group The God Bullies.
Critic Reviews for Mosquito
All Critics (5) | Fresh (3) | Rotten (2)

Ozus' World Movie Reviews
It delivers giant mosquitoes sucking on humans regardless of its limitations, and amounts to a very memorable guilty pleasure.

Audience Reviews for Mosquito
½
Ginormous skeeters attack campers in this cheesy horror flick. The bugs enlarge after feeding upon illegal aliens from outer space and are made very hard to kill. The effects are often better than what you'd expect in a film of this caliber, but the acting is drab with jokes falling flat b/c of poor delivery.
D M
Mosquito tends to be a fun watch, but the bland characters and force dialog do reveal it's not quite a piece of work. Many of the effects are great, though campy at times, but the rest of the effects are a bit bad. There are plenty of fun moments, similarities with other horror films, and all of your favorite horror tropes.
Wes Shad
The only positive about this junk, is Gunnar Hansen - we could have used some Leatherface in this one.
Bloodmarsh Krackoon
Mosquito Quotes
There are no approved quotes yet for this movie.
Discussion Forum
Discuss Mosquito on our Movie forum!