Mughal E Azam
(2005)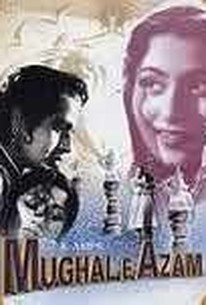 Movie Info
The land of the sacred Ganga and the towering Himalayas has given the world some personalities whose ideals were resplendently as pure as the water of the Ganga and whose aims were lofty as the Himalayas. Four hundred and sixty two years ago, a man named Jalaluddin Mohammed Akbar was born in this land of the Hindustan. History has recorded that this Mughal Emperor sprinkled the dust of the motherland with his blood. 'Mughal-E-Azam' is a page from the golden history of the land of Akbar. Jalaluddin Mohammed Akbar was a lover of Hindustan. And his son Nuruddin Mohammad Salim loved a frightened little palace main, Anarkali. In this tussle, the destiny of Hindustan trembled, and the future of the country was imperiled. On one side was an emperor's responsibility towards an ever-growing empire, his plans, his problems and his political complications. On the other side were perfumed silken tresses kissing the broad shoulders of a prince in love.
Critic Reviews for Mughal E Azam
Audience Reviews for Mughal E Azam
It's not Spartacus, but better than Asoka. The ending is kind of mean but I was expecting more evil...
Charles Schletzbaum
Technically advanced for its time, this movie represents one of the greatest love stories ever told in Indian history with magnificance and granduer.
Vishal Saini
There is something that confuses me about this Movie. I have seen the songs of this Movie in Black and White and in Color. I heard/read and was told that beside Pakeezah and Nikaah this Movie is one of the greatest Classic ever. My Previous review above. After watching the Movie:: Good I found out why the Movie was in black & white and in color. It was a K Asif Dream which came decades later true. Regarding the Movie I can only say:: This is a great and Unforgetable Piece of Candy!
Mughal E Azam Quotes
| | |
| --- | --- |
| Prince Saleem: | [holding the candle to her face] I want to demolish this wall of higher and lower. Anarkali, look at me - I want to see my love in your eyes. |
| | |
| --- | --- |
| Prince Saleem: | Do you see any fear in your son's face? |
| Empress Jodha Bai: | Absolutely not, I have trust in my blood. I came to congratulate you - a true Rajput prince may even have death as his bride. |
| | |
| --- | --- |
| Prince Saleem: | Times change, emperors change, destinies change... but when love grips a person, that person does not change! |
| | |
| --- | --- |
| Prince Saleem: | Treat me as a father and not as a king and give me my Anarkali! |
Discussion Forum
Discuss Mughal E Azam on our Movie forum!