The Net 2.0
(2006)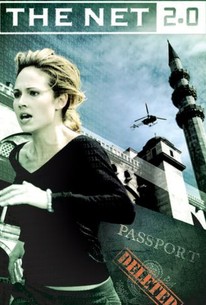 AUDIENCE SCORE
Critic Consensus: No consensus yet.
Movie Info
An in-name-only, direct-to-video sequel to 1995's blockbuster thriller The Net, The Net 2.0 begins with a new character - a stunning computer tech named Hope Cassidy (North Shore'sNikki DeLoach) - who travels to Istanbul, where she plans to take a new job. Yet Hope soon finds herself pursued by dozens of unsavory characters and underhanded types, who threaten to "erase" her identity by wielding the power of the internet's dark side. Helmed by Charles Winkler (the son of The Net's director, Irwin Winkler), The Net 2.0 co-stars Keegan Connor Tracy and Demet Akbag.
Audience Reviews for The Net 2.0
Same concept, different person, different situation, different Country. A relatively short film that seems to go on forever. It's very predictable and quite corny, but watchable and of course it's not on par with the first.
Lady D'arbanville
Super Reviewer
I think I liked the original one better, but this one is still good in it's own rights. It had some really good action sequences even if you knew what was going to happen a long time away it was a fun ride.
Tiffany R
5.5/10 The plot of this is very far fetched, but curiously, it held my interest. There are genuine tense moments, a good score and the Istanbul, Turkey location setting is a big plus. Nikki De Loach is surprisingly good. Mindless entertainment. Oddly, I searched for this on RT by The Net 2.0. It came up without finding the movie. Then I attempted to search by the director, Charles Winkler and it pulled him up, but his list of movies did not include this film. So tried looking under Nikki De Loach, and it was there. What is up with this site?!
James Higgins
The Net 2.0 Quotes
There are no approved quotes yet for this movie.
Discussion Forum
Discuss The Net 2.0 on our Movie forum!