New Year's Eve
(2011)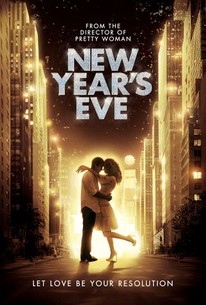 Movie Info
New Year's Eve celebrates love, hope, forgiveness, second chances and fresh starts, in the intertwining stories told amidst the pulse and promise of New York City on the most dazzling night of the year. -- (C) Warner Bros
People Who Like this movie also like
News & Interviews for New Year's Eve
Critic Reviews for New Year's Eve
Audience Reviews for New Year's Eve
½
A little bit funny. Good but not great.
Just one year after Garry Marshall's bid at romantic comedy gold, "Valentine's Day", this celebrity tainted mess came into theaters. It's not explicitly bad because of its average sized cast, or how flagrant it is. I can get behind a romantic comedy of epic proportions, because I did so with its predecessor. "Valentine's Day" may not have been wonderful in every way, but it had human stories, different sides to love's enigma, and really tried to say something about the day in question and how transformative it is. Did it succeed at every turn? Absolutely not, but everything that worked well in that movie is ignored in this one. Instead of exploring the many storylines he sets up for his plethora of characters, Gary Marshall simply crams as many familiar faces into this film as possible. Instead of looking at different facets or stages or ages of love, Marshall simply uses the same heart tugging elements that he did in his previous movie: love between two young people? Check. A soldier far from home? Check. At least there were some actually enjoyable performances in "Valentine's Day", and the two that obviously stood out were Jessica Biel and Ashton Kutcher. Both, as well as Hector Elizondo, show up yet again in this film, with no mention of their former characters from the last film. They're completely different characters, and not exactly enjoyable ones at that. Lea Michele and Jon Bon Jovi are in this film, so of course there are musical numbers. (I bet there was no singing, and it was rewritten when Michele was cast.) The love stories are not all that intriguing either: Katherine Heigl is mad at Bon Jovi. That's a relationship, and that's the entire explanation we're given. Josh Duhamel is looking for some girl, and we don't know what's so great about her except for an offhanded cheesy line. None of the relationships are built up, and where its predecessor really looked at all kinds of love, celebrated diversity, and cared about the characters, this film is so haphazard and clumsy. Besides that the dialogue is atrocious, and most of the time I found myself laughing at this for all the wrong reasons. Its predecessor exemplifies love, and truly, this film is just trying to do the same with some formulaic choices, which makes it weak and palatable at best.
Spencer S.
Super Reviewer
½
All eyes are on New York on New Year's Eve. Similar to Valentine's Day movie it follows the lives of people interacting. Pregnant couples compete to win money for giving birth to the first baby of the new year, Robert de Niro has a dying wish, a guy and gal agree to meet one year on in NYC. Good cast. Heart warming.
Candy Rose
Super Reviewer
New Year's Eve Quotes
| | |
| --- | --- |
| Hailey: | You know, I'm fifteen! |
| Kim: | I know, Hailey. |
| Hailey: | This is not a training bra! |
| Kim: | And this is not "Girls Gone Wild". My Gosh! |
| | |
| --- | --- |
| Male Nurse: | Male Nurse: May the best Va-Jay-Jay win! |
| Male Nurse: | May the best Va-Jay-Jay win! |
| | |
| --- | --- |
| Stan Harris: | I was living on a borrowed time. |
| | |
| --- | --- |
| Griffin: | "How bout we split 50/50." |
| Griffin: | How bout we split 50/50. |
Discussion Forum
Discuss New Year's Eve on our Movie forum!