No Good Deed
(2014)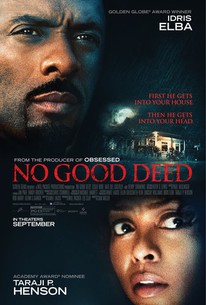 Movie Info
Terri (Taraji P. Henson), a devoted wife and mother of two, lives an ideal life that takes a dramatic turn when her home and children are threatened by Colin (Idris Elba), a charming stranger who smooth-talks his way into her house, claiming car trouble. The unexpected invitation leaves her and her family terrorized and fighting for survival. (C) Sony
People Who Like this movie also like
News & Interviews for No Good Deed
Critic Reviews for No Good Deed
Audience Reviews for No Good Deed
½
Here is a very standard home invasion thriller. Only difference is it's a black cast, and a good cast at that. Idris Elba stars as Colin, a man who breaks out of prison. Once out, he murders his ex fiancee, has a car crash, and then takes the home of Taraji P. Henson hostage. Elba and Henson are both great actors and do the best they can. But, when a movie is the same as every other movie in the genre, there isn't much they can do to make it truly stand out. But, having said that, it's not a bad movie, just nothing original. Even it's small twist towards the end is borderline predictable. Best thing about the movie is it's length, it's only 80 minutes long. It's a quick 80 minutes. But it's also a forgettable 80 minutes. Not a movie that will really stick with you. Just filler, to fill your mouth with some popcorn.
Everett Johnson
Super Reviewer
½
A criminal waste of talent and the audience's time, this No Good flick only ends up punishing viewers of its insufferably formulaic deeds. With dialogue borrowed from two dozen much better B-Movies, cheap scare tactics stolen from two dozen other dark 'n' stormy night thrillers, and a decent twixt twist that's still not good enough to save it, this potboiler seemed destined for Lifetime Movie-of-the-Week status and yet somehow made it to the big screen. Instead of a strong female, we get a supposed criminal defense lawyer pulling bonehead moves, one dumber than the last. The scariest thing about this flick is that this woman passed the bar. In this PG-13-rated thriller, a devoted wife and mother (Henson) finds herself fighting for survival when a charming but dangerous escaped convict (Elba) shows up at her door claiming car trouble invades her home and terrorizes her family. Oh, and it's during the most torrential rainstorm ever. Here, the stars prove much better than the material. Why Idris Elba, so brilliant in Mandela: A Long Walk to Freedom, chose this pedestrian home invasion flick, defies logic. Though he may feel comfortable being helmed by Sam Miller, his regular director on BBC's Luther, moviegoers feel anything but comfortable presented with cold leftovers. This goes for Taraji P. Henson too. So beneath them, this movie could very well qualify as a career killer. Bottom line: Good for Nothing
Truthfully, I likely never would have seen No Good Deed in the theater if it weren't for two events. It's not that it looked especially heinous, just ordinary and not worth rushing out to see. The first event was my father's newfound love of Idris Elba (Pacific Rim, Mandela) as an actor, an appreciation I too share for the charismatic leading man. The other event is a tad uncommon. Being part of a critics group, I regularly get e-mails from publicists about upcoming screenings. At the last minute, I received an e-mail informing me that an advanced screening was canceled, but what piqued my curiosity was the stated reason: there was a late twist/reveal that the studio did not want getting out. Really? What appeared on the surface like an ordinary home invasion thriller suddenly became a tad more intriguing, tempting my mind with possibilities. And so, with all of this achieved, I watched No Good Deed waiting to be surprised. My lack of surprise was the only real surprise, because just as I believed, this is your standard home invasion thriller that wastes the talents and time of just about everyone on screen. Colin Evans (Elba) is a very bad man serving a five-year prison sentence for assault, though it's believed he's responsible for several missing women and former girlfriends. During his parole hearing he escapes and heads to his ex-girlfriend's (Kate del Castillo) home. Colin doesn't appreciate that she's moved on to another man, and so he strangles her to death. He then leaves and drives off the road, an accident as the result of a powerful thunderstorm rolling through Atlanta. He comes to the door of Terri (Taraji P. Henson), a mother and wife whose husband is away. He asks to use her phone and then take shelter from the storm. She lets him inside. Big mistake. Doggedly formulaic, there is nothing about this story that separates it from the rest of the tired, dim-witted thrillers that prey upon fears of home invaders. If you removed the high-wattage stars from the film it would be completely at home on the quality-starved Lifetime Network, another poorly made suspense thriller about a bad man stalking a woman with subtle allusions to punishment for viewing the man as a sensual, dangerous opportunity. I was able to accurately guess every step of this story and I imagine you will have no problem with it as well (more on that "twist" later). How come there are no news stories about an escaped and violent convict? Colin severs the phone cords... but does nobody have cell phones in the neighborhood? In the opening credits, both Elba and Henson are listed as executive producers, which means that they attached themselves to this project because they wanted it to get made. They used their collective power to ensure this story would leap ahead of the thousands of other notable and compelling scripts in Hollywood (ahem). And the big question is why? I suppose there may be some fun from an acting standpoint to play such stock thriller roles as brooding boogeyman and bewildered ingénue. Except there's nothing to these one-note characters. The screenplay does the minimal amount of effort to establish them as victim and victimizer, but you'll never care about them or find them slightly interesting. Terri keeps making dumb decision after dumb decision; when you bash the bad guy in the head, you don't stop after one blow. She's a former prosecutor who worked in the homicide division, and yet she seems absentminded when interacting with mysterious strangers that appear in the dead of night at her doorstep. She's lacking all street smarts. There's nothing that sets apart Colin either (that name is a non-starter as far as striking fear). For a supposedly charismatic and brilliant narcissist, he doesn't do anything that smart. I'll highlight the small handful of moments that stood out to me, which will include the ending and that presaged "twist." Henson is 44 years old and a very good-looking woman, though it's a tad odd when the movie contorts to place her in a T&A scenario. Colin, covered in fire hydrant discharge, insists she get in the shower with him so he can get clean. For the remainder of the sequence, the terrified Henson is shaking in her white tank top, her body alerting us to her cold. When was the last time a woman six years away from 50 was purposely squeezed into a moment of gratuitous titillation, let alone a non-white actress? Another part about Terri is that she's a mother, a fact that Colin routinely relies upon with veiled threats of harm to her little ones. The funny part about all of this is when she has to sneak around the house that Terri has to grab her 4-year-old with one arm and the baby carriage with another, creating an awkwardly comical image. And it happens again and again. She sets the kids down, then goes back to carry them out, and then repeats. It made me laugh every time because it's just so unwieldy. Another example of the botched screenwriting: Terri has a baby and at no point in the film does the conflict of keeping the baby quiet surface. She has to quiet the child or else Colin will find them. It's a natural setup with such a young baby. Instead the baby is completely silent for the entire movie, peacefully sleeping though lots of physical activity, screaming, gunshots, a thunderstorm, and tree branches smashing through windows. This baby is unreal. How could this never be utilized? Again, more wasted potential, whatever slight potential there was to start with. But this brings us to the so-called twist, which I will obligingly refer to with spoilers but rest assured, if this is the working definition of twists nowawadays, we're all getting a little too carried away. When Colin takes Terri and her kids back to his dead ex-girlfriend's home, the recently murdered woman's phone rings. Who's on the other end? Shocker, it's Terri's husband, who has been having an affair with this same woman. And... that's it. That's the twist, which is really more of a plot reveal but nothing along the magnitude of a "Bruce Willis is dead" revelation. As it happened, I thought, "Okay, that can't be it, can it?" Oh, it was. What's even more frustrating is that No Good Deed doesn't build off this reveal. Colin was headed over to Terri's address to make her husband suffer, but then what? Afterwards, Terri runs around the house and eventually dispatches Colin, and the movie ends with her moving out on her own, essentially the least complicated and most boring ending it could formulate. My father had a far more morbid rewrite that I'll share with you, dear reader. His version would climax with the husband coming home and Colin casually murdering Terri and both of her young children, leaving bad hubby to forever suffer with guilt over the repercussions of his infidelity. While this ending would be controversial, it makes more sense in connecting the plot beats and at least stands on its own. At least it would be memorable. No Good Deed isn't a horrendous movie. It's just dull from start to finish, never attempting to be anything beyond a mediocre thriller. Its complete lack of ambition is even more upsetting with the quality of actors who helped to get this film made. The direction is hackneyed, the visuals are poorly lit and clumsy, and the thrills are too generic and often stupid to be entertaining. The characters are dumb, the story is dumb, and the movie is dumb. Worst of all, it's boring, the ultimate sin for a thriller. Unless you're hard up for some precious Taraji P. Henson T&A (and no judgment, she's a very beautiful woman), there's no good reason to venture out and catch No Good Deed. Nate's Grade: C-
Nate Zoebl
Super Reviewer
No Good Deed Quotes
| | |
| --- | --- |
| Colin: | I would have thought with all those brains you got, you woulda figured out what game we're playing. |
Discussion Forum
Discuss No Good Deed on our Movie forum!