The Odd Couple II
(1998)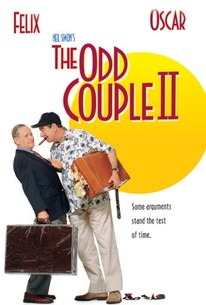 Movie Info
Thirty years after their stint as disparate, sparring roommates, Oscar and Felix meet and drive a rental car across the desert to attend the wedding of Oscar's son Brucey. Along the way they have many misadventures, including their car breaking down and getting sprayed by a crop duster.
Rating:
PG-13 (For brief strong language)
Genre:
Directed By:
Written By:
In Theaters:
On DVD:
Runtime:
Studio:
Paramount Home Video
Critic Reviews for The Odd Couple II
Audience Reviews for The Odd Couple II
I'm a complete-ist, so I felt I had to watch this one after loving the original. Matthau and Lemmon are fine, but the writing is atrocious. Matthau gets a few one-liners he makes work, but the script is so poor the movie should never have been greenlighted. Neil Simon wrote it? I just can't believe it, in terms of quality the contrast between this and the original is startling. I won't say a sequel should never have happened, but I will say so when this is the best ideas/writing you could come up with for it after 30 years.
Matt Heiser
½
Sure, it's not as great as the original, but it's the last time we get to see Jack and Walter together after more than 30 years of making movies together. Neil Simon wrote the script and I'll admit that it's probably the worst outing for all three, but it's by no means awful. Enjoy it for what it is- one last hurrah for the greatest movie duo in the history of cinema.
George Adelman
½
This sequel to "The Odd Couple" is odd. First of all, I don't think one really needed to happen and second of all if one was meant to be made it should have been made a little earlier. The 90's did sort of overuse the dynamic duo known as Lemmon and Matthau. Even in the 80's they paired up. But with films like "Grumpy Old Men", "Grumpier Old Men", "Out to Sea" and of course "The Odd Couple II", you have to ask yourself whether or not this great comedic pair really needed to return as Felix and Oscar. Still they both have the great chemistry on screen together. Always had, but this sequel felt oddly strained to me since most of it I've seen already in "Grumpy Old Men". The script by the great Neil Simon was very hit and miss with the jokes and the whole premise of both of them going to their children's wedding was forced. The direction and editing was pretty sloppy and there was a moment when they were walking in the desert when I almost had a brief flash back of when I saw the movie "Ishtar". The only thing worth seeing and is why I watched it is for Jack Lemmon and Walter Matthau. Despite this odd sequel having a crapola premise, you still gotta love these guys. I'd say watch it for them, but also check out the first movie.
The Vulture
The Odd Couple II Quotes
| | |
| --- | --- |
| Felix Unger: | I suppose you never have to pee. |
| Oscar Madison: | I do it for a half hour in the morning and then I'm good for the day. |
| | |
| --- | --- |
| Oscar Madison: | We always had bad chemistry. We mix like oil and frozen yogurt. |