One Way Passage
(1932)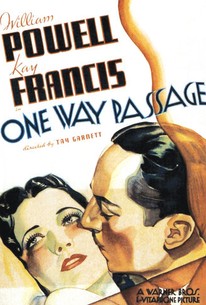 AUDIENCE SCORE
Critic Consensus: No consensus yet.
Movie Info
William Powell plays a condemned murderer who is being transported from Hong Kong to San Quentin by way of a luxury liner. Also on board is the lovely Kay Francis, who is suffering from a fatal heart condition. The sympathetic detective (Warren Hymer) escorting Powell allows the prisoner to roam the decks without handcuffs, an opportunity Powell exploits by arranging an escape with two of his old cronies (Frank McHugh and Aline MacMahon). But when he meets Francis, Powell falls in love. Francis is equally smitten, and the two conduct an exquisite shipboard affair, neither telling the other of their impending doom. Powell makes his escape, but is halted in mid-flight when Francis has a heart attack. He rushes Francis back on board ship to her doctor, knowing full well that this will mean his recapture. As they bid goodbye, Powell and Francis promise to meet again one year later in Agua Caliente--a rendezvous that neither will survive to keep. A year passes. At a bar in Agua Caliente, two cocktail glasses suddenly shatter, as if having been joined in a toast by unseen hands. One Way Passage was remade in 1940 as 'Til We Meet Again.
Critic Reviews for One Way Passage
Audience Reviews for One Way Passage
what a great movie. the plot may sound ridiculous but it works like a charm. tragedy should always be this much fun. the supporting characters deserve special mention and i particularly enjoyed aline macmahon as the phony countess. 'don't smudge my bangs!' priceless
Stella Dallas
Super Reviewer
William Powell and Kay Francis are well matched in this ultra romantic but somewhat preposterous weepie. Frank McHugh and particularly Aline MacMahon are a lot of fun in secondary roles. The brevity of the running time keeps the story moving along.
Great film about a couple of people who's futures do not look good, and they meet on a boat from Hong Kong to San Francisco. Just a great story, great supporting cast. This is one of those forgotten movies that you wonder why more people don't talk about more. Of course it stars the genius that was William Powell, so I am a little biased.
Keith Munley
Super Reviewer
One Way Passage Quotes
There are no approved quotes yet for this movie.