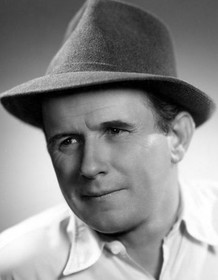 Tay Garnett
Highest Rated: 100% One Way Passage (1932)
Lowest Rated: 44% A Connecticut Yankee in King Arthur's Court (1949)
Birthday: Jun 13, 1894
Birthplace: Sawtelle, California, USA
A prolific, skillful director of adventure films, westerns and other hard-hitting fare, Tay Garnett began in films around 1920 as a writer. Becoming as a director near the end of the silent period, Garnett quickly demonstrated the narrative verve and technical competence typical of his work with the early talkie landmarks, the rough-housing romance, "Her Man" (1930) and the intriguing gangster film, "Bad Company" (1931). Though his output is variable, Garnett was a reliable and very talented craftsman who helmed such fine genre fare as "One Way Passage" (1932), a lovely romantic duet for Kay Francis and William Powell; "China Seas" (1935), a lively comic adventure at sea teaming up Clark Gable, Jean Harlow, and Wallace Beery; "Slave Ship" (1937), a grim, potent seafaring saga with Beery and Warner Baxter; "Stand In" (1937), a highly enjoyable spoof of Hollywood filmmaking with Leslie Howard and Joan Blondell; and one of Marlene Dietrich's best films, the rowdy yet touching "Seven Sinners" (1940). His most famous film, though, is arguably that classic film noir pairing of Lana Turner's blondeness and John Garfield's swarthiness, "The Postman Always Rings Twice" (1946).
Photos
THE POSTMAN ALWAYS RINGS TWICE, from left: Cecil Kellaway, Lana Turner, director Tay Garnett on set, 1946
WILD HARVEST, Alan Ladd, director Tay Garnett, Dorothy Lamour on set, 1947
THE POSTMAN ALWAYS RINGS TWICE, Lana Turner, John Garfield, Tay Garnett, 1946
THE FIREBALL, Mickey Rooney, Tay Garnett (right), 1950, TM & Copyright (c) 20th Century Fox Film Corp. All rights reserved.
WHISPERING SMITH, Director Tay Garnett, Alan Ladd, on-set, 1948
CHINA SEAS, from left, Clark Gable, Dudley Digges, Jean Harlow, Wallace Beery, director Tay Garnett, on-set, 1935
STAND-IN, front from left: director Tay Garnett, visitor Joan Bennett, Leslie Howard on set, 1937
TRADE WINDS, director Tay Garnett at the helm, 1938