Pandora's Box
(1929)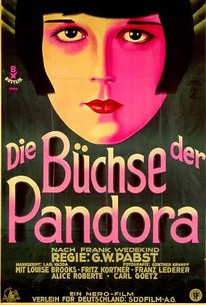 Movie Info
A free-loving, status-climbing dancer murders her rich paramour, then takes up with a succession of other lovers, gradually descending to the streets as a hooker -- where she has the incredible misfortune to proposition Jack the Ripper! Pandora's Box is an acknowledged masterpiece of sensual imagery.
News & Interviews for Pandora's Box
Critic Reviews for Pandora's Box
Audience Reviews for Pandora's Box
½
The original melodrama. Louise Brooks is sooo sexy.
Jennifer Xu
Super Reviewer
Brooks plays a girl who plays around with men, she doesn't want to be thought of as a prostitute or anything though, she never goes with guys she doesn't like. She marries an older man, but he believes he has ruined his reputation by doing so, so he decides they must die together. She doesn't think that's a good idea, but he ends up killing himself anyway, and she is blamed for his murder. She goes on the run with the guy's son, and they gamble away all their money. I wanted to write my own summary of this movie because the one on Flixster tells you about Jack the Ripper as if he played an important part throughout the film, but really we only see him in the end, which I don't want to give away. I didn't like this movie much because the story was pretty confusing most of the time, I think mainly because there aren't enough title cards (the written dialogue shown). Also, I thought the ending was stupid. I did like the movie for Brooks' acting and the interesting characters, so it's not a bad movie. Overall, it's okay.
½
it's hard to imagine the audience reaction to this when it premiered 80 (!) years ago. with frank sexual themes, lesbianism, prostitution and murder they couldn't have gone much further without lulu appearing stark naked. louise brooks looks amazing and gives a remarkable performance. lulu's not a bad girl really; she just wants to be loved. i liked the piano score too; very evocative
Stella Dallas
Super Reviewer
Pandora's Box Quotes
There are no approved quotes yet for this movie.