The Penalty
(1920)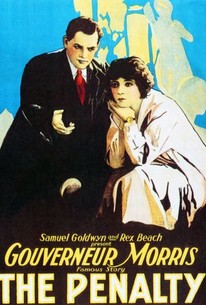 Movie Info
This picture, based on the novel by Gouverneur Morris, was a tour de force for Lon Chaney, who plays a legless kingpin of the Barbary Coast underworld. When Buzzard (Chaney) was a boy, his legs were amputated by an incompetent doctor; now that he's an adult, his goal is to get revenge on the doctor, to become the ruler of the underworld and to have someone else's legs grafted onto his stumps. But an operation on a blood clot in his brain converts his evil mind to one that wants to do good. Rose (Ethel Grey Terry), the secret service agent who has been keeping tabs on Buzzard, falls in love with him now that he has reformed and marries him. Buzzard's old associates, however, aren't so thrilled with the change and they murder him.
Rating:
NR
Genre:
, , ,
Directed By:
Written By:
In Theaters:
On DVD:
Runtime:
Studio:
Samuel Goldwyn Company
Critic Reviews for The Penalty
Audience Reviews for The Penalty
This movie is an absolute privlidge to watch, not only because its one of the few Lon Chaney films to survive but also one of his greatest performances. In this film he plays the crimelord Blizzard a double amputee out for revenge, after his legs are accidently cut off as a boy during a botched operation. Chaney actually tied his legs behinde him and walked on his knees in these buckets with leather straps so that he would look the part and wouldnt have to rely on trick angles. i mean he just gives each performance his absolute effort and it really shows in this picture. don't be turned away by it being a silent film as its up to par and maybe even better than sound movies today. 5/5
Jacob Lagana
good flick, with interesting portrayals. I felt that each actor tried, with success, to bring their characters to life and be believable. Solid direction and camera work, though the script seemed simplistic - but that was often a hallmark of the silent age. Appropriate ending given the scenes immediately prior.
Christopher Bergan
½
This movie was very predictable, but Cheney does a great job as usual in his strange role of a criminal kingpin without legs. The romantic part of it was good too, although sometimes unintentionally funny. But then the ending was really very sad. Overall it was pretty good, but it could have been better.
The Penalty Quotes
There are no approved quotes yet for this movie.