Prince of Broadway
(2010)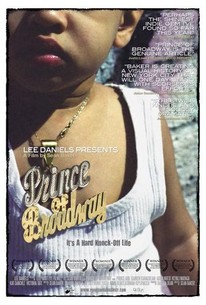 Prince of Broadway Videos
Prince of Broadway Photos
Movie Info
"Prince of Broadway" is the story of Lucky and Levon, two men whose lives converge in the underbelly of New York's wholesale fashion district. Lucky, an illegal immigrant from Ghana, makes ends meet by soliciting shoppers on the street with knock-off brand merchandise. Levon, an Armenian-Lebanese immigrant, operates an illegal storefront. Lucky's world is suddenly turned upside down when a child is thrust into his life by a woman who insists the toddler is his son. While Lucky copes with his new domestic dilemma, Levon struggles to save a marriage that is falling apart. The seedy side of the wholesale district is revealed through a journey that continually confronts the interplay between what is fake and what is real.
News & Interviews for Prince of Broadway
Critic Reviews for Prince of Broadway
Audience Reviews for Prince of Broadway
½
Brilliant neorealist, improvisatory film using non-professionals to tell a story about a street hustler and the baby he is forced to look after.
Lee Mayo
"Prince of Broadway" is an admirable but dull film. It heroically chronicles the hardscrabble life of poor immigrants in New York City, but it doesn't have much of a story to tell about them. Lucky, the main character, is an illegal immigrant (from Africa, it seems) who ekes out a meager living by selling counterfeit luxury items, a major trade in NYC. His life is turned upside-down when a former girlfriend shows up one day and hands him a baby. "He's your son," she says. He struggles to hand the baby back, but to no avail. He stands there shell-shocked, not even knowing how to hold a child much less parent one. This is great subject matter, but writer/director Sean Baker doesn't really know what to do with it. Watching this uneducated man struggle to learn to take care of a baby doesn't make for compelling cinema after about 20 minutes. Baker is a master of ethnographic cinema, capturing the look and feel of a particular social milieu. He presents the New York under-class with the same kind of deep, gritty authenticity that Lee Daniels did in 'Precious.' Alas, capturing a look and feel is only part of a movie-making project. There also has to be a great screenplay with a great story. Baker really disappoints here. He may be a great director, but he's no screenwriter. Still, I'm very pleased that 'Prince of Broadway' finally found a distributor two years after the film was finished. No doubt this was all due to Lee Daniels, who agreed to let his name be used in the marketing campaign. In all the movie ads I've seen, "Lee Daniels Presents" appears above the title. We desperately need more hand-made films like this and more filmmakers like Baker and Daniels, who are willing to forgo a life of riches to tell stories about the poor. "Prince" may not be a perfect film, but cinephiles from coast to coast must support it to send a message that films with subject matter like this are marketable. If a market for films like this opens up, we would no doubt get some better specimens of the genre quickly. Support hand-made working-class cinema!
William Dunmyer
Super Reviewer
½
An equal parts charming and gritty look at two immigrants trying to make a living by selling knock-off merchandise in New York. One is dealing with marital troubles stemming from a fake marriage for US citizenship, while the other is suddenly left with a young son he didn't even know he had that may or may not even be his. A vibrant slice of neo-realism, teeming with life and the pulsating rhythms of the streets of New York.
Matthew Lucas
Super Reviewer
Prince of Broadway Quotes
There are no approved quotes yet for this movie.
Discussion Forum
Discuss Prince of Broadway on our Movie forum!