Psycho IV: The Beginning
(1991)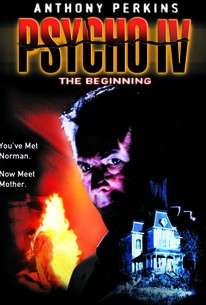 AUDIENCE SCORE
Critic Consensus: No consensus yet.
Movie Info
This third sequel to Alfred Hitchcock's classic thriller was originally made for cable television and looks into murderous Norman Bates' traumatic past in hopes of explaining his need to kill.
Critic Reviews for Psycho IV: The Beginning
Audience Reviews for Psycho IV: The Beginning
An interesting and quite psychologically accurate telling of how Norman Bates became the world's most famous momma's boy. Henry Thomas was a good choice for young Norman. Olivia Hussey (from Black Christmas, 1974) is very good as Mama Bates. Her reactions to Norman created an atmosphere for his schizophrenia to fester: the scene where she tickles him at his father's funeral is a good example. When he quite rightly giggles, she slaps him, even though she provoked it. Young Norman grew up not knowing how to react to situations. Plus the great love and fear for his mother laid the groundwork for his psychosis. It is really pretty good.
Cassandra Maples
Super Reviewer
Psycho IV is the conclusion to the Norman Bates saga. In this film, we get the back story and why Norman Bates became so demented. I think it's a great idea for a plot, and it is slightly better than part 3 due to that fact. There are some good performances here, and the directing is effective enough to keep you interested from start to finish. The film does have its flaws, but for a Made for TV picture, it's pretty good and it delivers some genuine chills and thrills. Although you can come to expect that by a fourth film in any series, there's a lack of truly great ideas, and though this one offers an origins take on the Psycho franchise, there's still something lacking in the film to really make it memorable. The film is told with the aid of flashbacks and it is well done in that matter and there's plenty to offer for fans of the series. As for me, I've always loved the original, and no sequel will ever top it, but the sequels have managed to elaborate on the character of Norman Bates and it's been quite entertaining. Anthony Perkins is what kept me interested in the sequels and it's no exception for this final entry. As far as I'm concerned, considering that the original is so iconic, the films that followed were pretty good, and departed significantly from the suspense, psychological horror genre and ventured deeper in the Slasher genre. I really enjoyed this film, and Anthony Perkins as usual is phenomenal as the character he established over the course of previous three films. Very entertaining, and underrated, Psycho IV: The Beginning is a very good prequel compared to numerous others that have failed to tell an effective plot. Perkins holds the material together very well with a chilling performance and he manages to play Norman Bates one final time with effective menace and with that said, the film overcomes its many weaknesses
½
We finally get to see exactly what makes Norman Bates a psycho when he tells all on a radio show, of all things. The cast is good, it's still got Perkins, and the continuing story outside of the flashbacks is good, but I don't think this movie was needed, we knew enough about his background from the other three films.
Psycho IV: The Beginning Quotes
There are no approved quotes yet for this movie.