Rebels of the Neon God
(2015)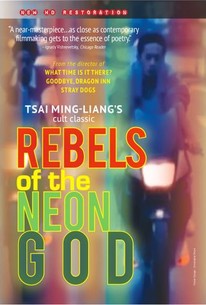 TOMATOMETER
AUDIENCE SCORE
Critic Consensus: Rebels of the Neon God announces writer-director Ming-liang Tsai as a fully formed talent -- and remains one of the more accomplished debuts of the decade.
Rebels of the Neon God Photos
Movie Info
Tsai Ming-liang emerged on the world cinema scene in 1992 with his groundbreaking first feature, REBELS OF THE NEON GOD. His debut already includes a handful of elements familiar to fans of subsequent work: a deceptively spare style often branded "minimalist"; actor Lee Kang-sheng as the silent and sullen Hsiao-kang; copious amounts of water, whether pouring from the sky or bubbling up from a clogged drain; and enough urban anomie to ensure that even the subtle humor in evidence is tinged with pathos. The loosely structured plot involves Hsiao-kang, a despondent cram school student, who becomes obsessed with young petty thief Ah-tze, after Ah-tze smashes the rearview mirror of a taxi driven by Hsiao-kang's father. Hsiao-kang stalks Ah-tze and his buddy Ah-ping as they hang out in the film's iconic arcade (featuring a telling poster of James Dean on the wall) and other locales around Taipei, and ultimately takes his revenge. REBELS OF THE NEON GOD is a remarkably impressive first film that hints at the promise of its director: a talent confirmed by Tsai's equally stunning second feature, VIVE L'AMOUR (Golden Lion, Venice), and continuing to his most recent film, STRAY DOGS, which ranked high on many "best of" lists last year. Though showing such diverse influences as the French New Wave, Wong Kar-wai's early films-and, yes, REBEL WITHOUT A CAUSE-Tsai's film is most remarkable for introducing his startlingly unique vision to world cinema. (C) Big World
Critic Reviews for Rebels of the Neon God
Audience Reviews for Rebels of the Neon God
½
Tsai's first feature film was already a remarkable naturalistic look into the emptiness, lassitude and lack of human connection of Taipei youth, despite how it clings so much to an element of revenge that feels a tad poorly motivated - or perhaps that is precisely the point after all.
Carlos Magalhães
Super Reviewer
In "Rebels of the Neon God," Hsiao Kang(Lee Kang-sheng) is going through a bit of a rough patch as he wants to drop out of cram school. First, he hurts his hand on a window and then his scooter is towed away. Not only does his father(Tien Miao), a cab driver, give him a ride but also talks about taking the rest of the afternoon off and going to see a movie together. But that's when Ah Tze(Chen Chao-jung) comes into the picture. He is giving a ride home to Ah Kuei(Yu-Wen Wang) who had spent the previous night with his brother in their flooded apartment while Ah Tze was out committing petty acts of larceny with his friend Ah Bing(Chang-bin Jen). Even with his bittersweet first feature, "Rebels of the Neon God," Tsai Ming-liang shows remarkable assurance in crafting a story the is deceptively elegant and subtly told. All of which is in the service of depicting youth who are trying to discover themselves, while at the same time missing opportunities that pass them by. To be honest, they are not cognizant of the effects this has on their lives or on others because they are living purely in the moment. Hsiao Kang may know that he does not want to be another faceless cog in the machine. He just does not know what he wants. It is his parents who have an eye on his future because they have already lived it. So while they save every penny for his education, they cannot help to dream.
½
i've been thinking about getting into tsai and i've decided to tackle them in order as his feature films revolve around one character who is introduced here. the film seems loosely inspired by nicholas ray's seminal 'rebel without a cause,' even featuring a james dean poster at the video arcade where the young protagonists spend much of their time (temple of the neon god). our 'hero' hsiao kang mostly presents as the sal mineo character. you'll see what i mean. funny how disaffected youth the world over recognize each other
Stella Dallas
Super Reviewer
Rebels of the Neon God Quotes
There are no approved quotes yet for this movie.