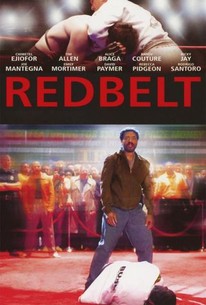 Redbelt
2008, Drama, 1h 39m
146 Reviews
10,000+ Ratings
What to know
Critics Consensus
Mamet's mixed marital arts morality play weaves between action and intellect but doesn't always hit its target. Read critic reviews
Where to watch
Rent/buy
Rent/buy
Rent/buy
Rate And Review
Movie Info
Martial artist Mike Terry (Chiwetel Ejiofor) lives by a strict code of no competitions, for he feels that such contests weaken fighters. After saving a famous action star (Tim Allen) from a brutal attack, Mike takes a job in the film industry. He soon finds his personal beliefs and integrity on the line as circumstances force him to participate in a prize fight.
Rating: R (Strong Language)

Genre: Drama

Original Language: English

Director: David Mamet

Producer: Chrisann Verges

Writer: David Mamet

Release Date (Theaters): wide

Release Date (Streaming):

Box Office (Gross USA): $2.3M

Runtime:

Distributor: Sony Pictures Classics
News & Interviews for Redbelt
There are no critic reviews yet for . Keep checking Rotten Tomatoes for updates!
Audience Reviews for Redbelt
Redbelt is a good martial arts movie but I was disappointed with the payoff scene and thought it would be something more deep but turned out the opposite. The movie Mamet made played safe and no risks. I really admired David Mamet's cast particularly Chiwetel Ejifor and Tim Allen in a good serious role. I watched the special features and many of the consultants who helped in making this film believed mix martial arts will be the greatest sport in the world. I am not a fan of UFC or any other mix martial arts league so I really don't believe so.

After the arguably awful "Spartan", writer/director David Mamet delivered this. It could be called a genre picture but if you know Mamet, you'll know he doesn't really follow conventions. Mixed-martial-arts instructor Mike Terry (Chiwetel Ejiofor) has money problems. He could earn $50,000 in a competition, but honour precludes him from fighting for money. Then a series of chance encounters leaves him no choice but to step into the ring. The film opens dramatically, introducing several of it's key characters in quick succession and manages to maintain this drama for a lenghty period. In fact, for almost the entire film. The acting is marvellous with Chiwetel Ejiofor's central, dynamic performance a real highlight. He's a fine actor, deserving of more major leading roles. As always, David Mamet's dialogue is sharp and natural, helping his characters come to life. At first, so many strands to the story are introduced, with no explanation, before eventually bringing them all cleverly together. Mamet is known for his writing skills and again they are on display here. Despite the undeniable power though, as it progresses, it starts to veer toward the formulaic side (which I suppose is difficult considering it's subject) and ties it's many strands up rather quickly, in a nice red bow (or quite literally 'belt'). It was far too neatly done and gave the feeling of being rushed, letting down an otherwise superb film. Although flawed, it's still absorbing and one of David Mamet's better films. It's not a major demerit but I found it to be a bit short, I was enjoying it so much that I could have done with an extra half an hour. Then again, maybe there is no higher compliment than this.

A Mamet work that is not made in the rhythm of dialogue. It's a melodrama and when the movie does exposition, it's like a joke on melodramas, past and present ( -- it reminded me of the "Wally Beery wrestling picture" the studio boss wanted Barton Fink to write). But when the movie does silences and implications, disparate characters and their problems seem part of the same real world. Ejiofor is amazing and for all the power and magnetism he brings to the surface of the movie, as an avatar of honor and purity, the real pull of this story is in the undertow. This is, I think, a very sad movie. No matter what points the hero scores for authenticity and fidelity to principles, there is not enough time before the buzzer sounds. It's as if he and his old master cry that there is even such a thing as a redbelt, for their ideal will always be greater than the world they know and greater than they themselves, who are part of that world. When the hero repeats, "There is no situation that you could not escape from. There is no situation that you could not turn to your advantage," any adult knows that's not true. Not only is this credo anti-noir, it's anti-Greek tragedy. The credo becomes like a losing declaration of faith for the hero, and I know Mamet doesn't believe it. He may believe that listening to the wolves when *they* say there's no escape is to feed yourself to the wolves without a fight.

I settled in to watch a normal Karate/Fight movie (ala Jet Li, Jason Statham or Steven Seagal) where the story is paced to take you on a carefully paced testosterone rollercoaster ride. This was it, but in its defense the choreography of the fight scenes is the best I've ever scene. It is more comparable to 2001 "The Heist" except it has a better pace. I am torn between 3 and 4 stars. (4 stars) for the plain good story telling, credible fight scenes and journeyman acting performances. (3-stars) for attempting to cross-pollinating a fight movie and drama and not succeeding at either. Back to the fight scenes. The majority of the supporting staff and extras are drawn from different areas of martial arts. Nobody flies on wires, has a relative killed by a bad guy or knows any special "Five Point Palm Exploding Heart Technique. The fight scenes shoot for balance and control over lighting fast motion and unbelievable power. Nuf said. Tim Allen role in the movie is so askew in the movie, like a private joke about somebody except the audience is not involved. And Emily Mortimer, normally a interesting supporting actor, seems ill prepared for the roll. A slightly better choice would have been Tracy Ullman with her fake teeth. I'll over look some of the ideas that may have looked like "a good duality", or "character evolving" or "juxtaposition" when they were shot, but should have been re-shot or left on the cutting room floor. And give it (4 stars). A more interesting film would have been Mamet pitching a conceptual martial arts movie to Hollywood cronies and having them all think he's lost it behind his back.
See Details