Road to Rio
(1947)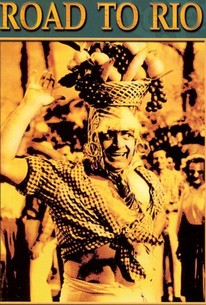 Movie Info
Road to Rio was the first of three "Road" pictures jointly produced by stars Bing Crosby and Bob Hope. On the run from the law again, musicians Bob and Bing stow away on an ocean liner. They try to come to the rescue of heiress Dorothy Lamour, who is doomed to an arranged marriage to caddish George Meeker. All gratitude and effusions for their assistance, Dorothy surprises Bob and Bing on their next meeting by slapping them in their faces and declaring "I hate you! I loathe you! I despise you!" The explanation? Dorothy is being hypnotized by her scheming aunt Gale Sondergaard, who has set up the marriage for mysterious mercenary reasons of her own. When Dorothy is "herself" again, Bob and Bing smuggle her off the ship and into their Rio de Janeiro hotel room. The boys plan to save Dorothy from her unwanted marriage by passing her off as a nightclub singer, and themselves as band leaders. Trouble is, they have no band. Enter the Wiere Brothers, three Rio street entertainers. Bob and Bing hire the threesome on the spot, unmindful that they have booked themselves into Nestor Paiva's nightclub on the promise that they're delivering an American band. Since the Wieres speak only Portuguese, Bing teaches each brother an American phrase by rote: "You're in the groove, Jackson", "You're Telling Me," and "This is Murder." Naturally, it isn't long before the boys' ruse is discovered, and this coupled with the newly hypnotized Lamour's threats to have Bob and Bing arrested, leaves our heroes broke and stranded once more. Still, they pose a menace to Sondergaard, thus she contrives a method of disposing of them. Hypnotizing them both, Sondergaard orders Bob and Bing to kill each other. They snap out of the spell just in time, but still there's the problem of rescuing Dorothy. And now there's a new angle: mysterious stranger Frank Puglia informs the boys that the only way to stop the wedding is to retrieve (pause; a furtive glance left; a furtive glance right) "The Papers." Said papers are in the possession of Sondergaard, obliging Bob and Bing to show up at the pre-nuptial festival in disguise (with Bob in drag). Managing to hypnotize Sondergaard's henchmen Frank Faylen and Joseph Vitale, Bob and Bing uncover the precious Papers, and Dorothy is saved. But how can those papers stop a wedding? We won't give away the surprise, nor will we tell you whether Dorothy ends up with Bob or Bing, nor even what the heck Jerry Colonna is doing in the picture leading a cavalry charge. Not the best of the "Road" pictures, Road to Rio is nonetheless one of the most memorable--and quotable (how many of your high school pals used to confound the teacher by declaring "You're in the groove, Jackson"?)
Rating:
NR
Genre:
,
Directed By:
Written By:
In Theaters:
On DVD:
Runtime:
Studio:
Paramount Pictures
Critic Reviews for Road to Rio
Audience Reviews for Road to Rio
Bing and Bob are in fine form in the fourth "Road" film; Dorothy Lamour is along for the trip, of course, and Crosby sings two good songs: "But Beautiful" and "You Don't Have to Know the Language"(with the Andrews Sisters).
Michael Troudt
½
Hope, Crosby and Lamour take their act to Brazil, one liners and in jokes littered behind them like a ticker tape parade. The best part of the Road series: the forays through the fourth wall, the way the films embraced the reality that nothing in the film was real but that we are watching it and that they are doing it. In this one look for The Andrew Sisters and Jerry Cologna in highlighted cameos. All in all, more of the usual fun.
Kevin M. Williams
Super Reviewer
½
This Road film follows two fugitive musicians played by Crosby and Hope as they end up in Rio. It has some bizarre moments but the "You're in the groove Jackson" scene is hilarious and it was especially memorable for some reason. This is another solid film in the series.
Four Star Film Fan
Road to Rio Quotes
There are no approved quotes yet for this movie.