Root of All Evil?
(2006)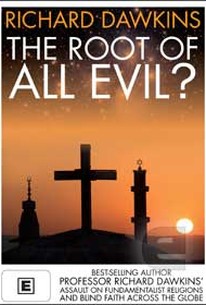 AUDIENCE SCORE
Critic Consensus: No consensus yet.
Critic Reviews for Root of All Evil?
All Critics (1) | Top Critics (1) | Fresh (0) | Rotten (1)
Those viewers who are trying to keep an open mind about the existence or nonexistence of the divine may find Dawkins' certainty as off-putting as that of the religious activists he meets.
Audience Reviews for Root of All Evil?
½
Poorly done, although the idea was there, it was just... sloppy. (Saw this some time last year.)
A highly informative 2-part documentary which highlights the DEFINITE flaws in our world's religions. Richard Dawkins scientifically disproves many religious myths (purported by the church as facts) - with an emphasis on Creationism vs Evolutionism (1st half). The 2nd half is incredibly powerful, since Dawkins cleanly outlines the role of religion as a motivation for 'religiously-validated' rape, female oppression, genocidal war, and territorial theft between races (backed up by scriptural evidence). By debating with evangelists and other dogmatic religious bigots, he thoroughly proves that religion is counterproductive to our world economy and social structure. Whether you're religious or not, I recommend this film. It will inject rational thought, where irrationality has always resided. Free to watch: http://www.tv-links.co.uk/video/9/6169/9597/60065/84794 (Part 1) "God Delusion" http://www.tv-links.co.uk/video/9/6169/9601/60068/84797 (Part 2) "Virus of Faith"
Root of All Evil? Quotes
| | |
| --- | --- |
| Host: | We are going to die, and that makes us the lucky ones. Most people are never going to die because they are never going to be born. The potential people who could have been here in my place but who will in fact never see the light of day outnumber the sand grains of Sahara. Certainly those unborn ghosts include greater poets than Keats, scientists greater than Newton. We know this because the set of possible people allowed by our DNA so massively exceeds the set of actual people. In the teeth of these stupefying odds it is you and I, in our ordinariness, that are here. |
Discussion Forum
Discuss Root of All Evil? on our Movie forum!