Sex Is Comedy
(2004)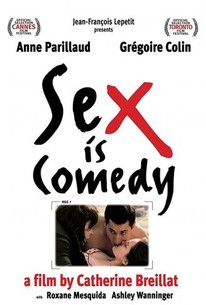 Movie Info
Film director Jeanne is obsessed with directing a difficult sex scene between her young actress and actor who hate each other. Aided and prodded by her loyal assistant director, Leo, Jeanne is hell-bent on getting it right, without compromise or dishonesty.
Critic Reviews for Sex Is Comedy
Audience Reviews for Sex Is Comedy
This was a pleasant surprise. I have found many of Mdme Breillat's films tough going and have often failed to understand her purpose. This, however, was a fascinating study of the process of making a film that kept me entranced. The acting was excellent and the story may be her most accessible. From what I've read, it is somewhat autobiographical. But, as a study in the process, it ought to be required viewing in a film studies curriculum.
Mark Abell
Super Reviewer
½
A director cajoles, threatens, berates, and befriends her actors in order to get them to perform the perfect sex scene. The shooting of a sex scene has always been a curiosity for me. To put something so personal and private on screen in front of everyone from one's fellow actors to the Teamsters rep to the gum-chewing, fanny-pack-wearing, high school dropout key grip speaks to what levels of courage actors must have to do such a job. But this film doesn't focus on the actors' journeys but the director's various tactics to get them to do the scene. I can see how this concept might make a good film, but not with this director. Jeanne is a myopic, self-centered bitch, and her little manipulations are thoroughly uninteresting. What is more, I had trouble seeing the real conflict in the film. It's true that the Actor was resisting Jeanne's appeals, but I didn't see any real rebellion like the clear refusal of Sarah Jessica Parker's character in State and Main. The actors in Sex is Comedy seem willing and professional even though they are naturally uncomfortable. Overall, despite its title, Sex is Comedy isn't funny or particularly insightful, and its focus is on the least interesting and least appealing character in the film.
Jim Hunter
Super Reviewer
A movie about making a movie. The director in the film tries everything from cajoling to befriending to get a sex scene correctly played in her film. The last scene of this movie is the filming of that sex scene in the movie. I gotta say, it looks like they got it done right. But this movie seemed to take too long. I'm sure they could have achieved the same reaction from her audience in a movie half as long as it was.
Sex Is Comedy Quotes
There are no approved quotes yet for this movie.